Hydroponics: The Ultimate Guide For Beginners to Start Your Own Greenhouse Gardening and Indoor Hydroponics for Growing Cannabis, M (Paperback)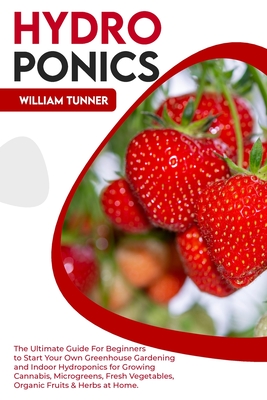 Email staff@bookmarksnc.org for price & availability
Description
---
Are you tired of industrial agriculture's bad practices and the excessive use of pesticides?
Would you like to eat fresh, healthy, and possibly locally produced food?
Have you ever thought about growing your hydroponics garden to get your homemade vegetables and fruits?
Hydroponics is an efficient process used to grow plants and food materials in nutrient-rich solutions without using the land. Instead of the traditional element for cultivation, the part used to make plants grow in water.
Water plays a fundamental role in this type of crop as it is the one that manages to give all the nutrients to the plant to make it increase and in total health.
There are various ways of growing things hydroponically. If you want to start using this technique too and learn everything about it, you must receive the correct information and advice to avoid making mistakes that could compromise the harvest.
This guide is designed to allow everyone to learn the techniques of soilless cultivation, illustrating both the productive and ecological benefits and the difficulties and mistakes to avoid, especially for beginners.
In this book, you will:
Clearly Understand What Hydroponic Gardening Is to precisely know what you are talking about to choose which type of crop you prefer consciously.
Get to Know the Different Types of Hydroponics Gardening and How to Choose The Best Suitable for You according to what you would like to grow and what you want to achieve.
Learn How to Build Your System, which, once started, gives visible and rewarding results in a short time. You will find everything you need to know to start and grow fast and extensive your hydroponics garden system, whatever one you choose.
Find The Necessary Maintenance Techniques For Healthy And Vibrant-Looking Plants. If you do those things, you will be properly maintaining your system and see vigorous growth and production throughout the growing cycle.
Find Common Problems You May Encounter And How To Manage Them. Read about the most common issues that you may experience and this information will prevent you from making some mistakes and give you the knowledge to successfully deal with others.
... & Much More
Hydroponic Gardening is the Present and the Future
You will manage pH and nutrients to make sure plants are getting the exact nutrients they need. The systems are closed and recycle the water that plants do not use. The ability to grow indoors allows you to control temperatures and lighting schedules to improve plant production.
Hydroponics also allows you to create gardens in locations where soil conditions are too poor to support gardening or space is limited, and a garden otherwise could not exist.
Do not waste any more time
Take this guide in your hands and make your dreams to have your home hydroponic garden come true
Order Your Copy Now and Start Growing Your Own Hydroponic System