Winnie-the-Pooh in Arabic A Translation of A. A. Milne's "Winnie-the-Pooh" into Arabic (Large Print / Paperback)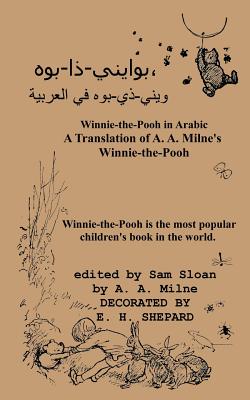 Email staff@bookmarksnc.org for price & availability
Description
---
Winnie-the-Pooh is the most popular children's book in the world. This is the first known translation of Winnie-the-Pooh into Arabic.
We believe the reason Winnie-the-Pooh has not caught on in Arabic speaking countries is there are no bears in Arabic speaking countries. Winnie-the-Pooh is most popular in countries where there are a lot of bears, such as Russia. There was a species of bear living in the Atlas mountains of Morocco, but they all went extinct. The last one was shot and killed in 1870.
The purpose of this book is to help Arabic speakers learn English and to help English speakers learn Arabic. To have a translation as close as possible to the original is the most useful. The name for Winnie-the-Pooh in Arabic is wayny-th-bw. Bear is yatahamal or يتحمل The Rabbit is أرنب al'arnab. Christopher Robin is Kristufar Rubin. Ishi Press has reprinted translations of Winnie-the-Pooh into 39 languages thus far. We have published it in Afrikaans, Albanian, Arabic, Armenian, Bengali, Bulgarian, Cebuano, Chinese, Croatian, Czech, Danish, Dutch, Esperanto, Finnish, French, German, Greek, Hungarian, Icelandic, Italian, Japanese, Korean, Latvian, Persian, Polish, Portuguese, Russian, Serbian, Sinhalese, Spanish, Swedish, Turkish, Yiddish, Hindi, Urdu, Vietnamese, Khowar, Kalasha and Latin. We have six more languages lined up. This translation into Arabic is part of project to translate Winnie-the-Pooh into other languages. The idea is children need to learn to read at an early age and the best way to teach them to read is to provide reading materials that they find interesting. Children around the world laugh when they see Winnie-the-Pooh saying and doing silly things. Since Winnie-the-Pooh is the most popular children's book world-wide, translating this book into the different languages of the world will be conducive to teaching children to read in those languages.
We are not translating the entire book. We are only translating Chapter 2, which is the most interesting, most popular and shortest chapter.
The real original Winnie-the-Pooh teddy bear is now on display at the New York Public Library Children's Room on 42nd Street at Fifth Avenue.
We would like to hope that this little bear, Winnie-the-Pooh, can bring peace and unity to the languages of the region.