Winnie-the-Pooh in Cebuano and Visayan A Translation of A. A. Milne's Winnie-the-Pooh: Cebuano and Visayan Languages of the Philippines (Large Print / Paperback)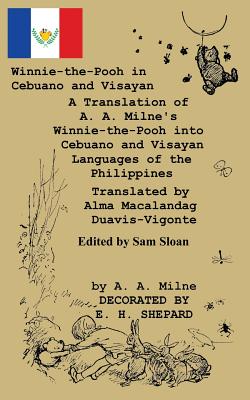 Email staff@bookmarksnc.org for price & availability
Description
---
A Translation of A. A. Milne's Winnie-the-Pooh into Cebuano and Visayan by Alma Macalandag Duavis-Vigonte
Winnie-the-Pooh is the most popular children's book in the world. Cebuano and Visayan are languages read and spoken by an estimated 21 million people in the Philippines.
One of Magellan's seamen, Antonio Pigafetta, jotted down words in the Cebuano Language. During the expedition, Pigafetta served as Magellan's assistant and kept an accurate journal which later assisted him in translating Cebuano. It is the first recorded document concerning the Cebuano language.
Cebuano is spoken on the province of Cebu, Bohol, Siquijor, Negros Oriental, northeastern Negros Occidental, southern Masbate, many portions of Leyte, Biliran, parts of Samar, and most parts of Mindanao, the second largest island of the Philippines. Furthermore, "a large portion of the urban population of Zamboanga, Davao and Cotabato is Cebuano speaking".
Some dialects of Cebuano have different names for the language. Ethnic groups of Cebuano speakers from Cebu are mainly called "Cebuano", Cebuano speakers from Bohol are "Boholano/Bol-anon", while Cebuano speakers in Leyte identify their dialect as Kana (Leyte Cebuano or Leyte o). Speakers in Mindanao and Luzon refer to the language simply as Binisaya or Bisaya.
If you ever go to Cebu, be sure to take Cebu Pacific Airlines. On the journey, the Stewardesses will dance and sing for you.
Cebuano only relatively recently started being used as a written language. It is now taught in the schools.
Ishi Press has reprinted translations of Winnie-the-Pooh into 34 languages thus far. We have published it in Afrikaans, Armenian, Bengali, Bulgarian, Cebuano, Chinese, Croatian, Czech, Danish, Dutch, Esperanto, Finnish, French, German, Greek, Hungarian, Icelandic, Italian, Japanese, Korean, Latvian, Persian, Polish, Russian, Serbian, Spanish, Swedish, Turkish, Yiddish, Hindi, Urdu, Khowar, Kalasha and Latin. We have six more languages lined up. This translation into Cebuano is part of project to translate Winnie-the-Pooh into other languages. The idea is children need to learn to read at an early age and the best way to teach them to read is to provide reading materials they find interesting. Children around the world laugh when they see Winnie-the-Pooh saying and doing silly things. Since Winnie-the-Pooh is the most popular children's book world-wide, translating this book into the different languages of the world will be conducive to teaching children to read in those languages.
We would like to hope that this little bear, Winnie-the-Pooh, can bring peace and unity to the languages of the region.