Winnie-the-Pooh in Latvian Language A Translation of A. A. Milne's "Winnie-the-Pooh" (Large Print / Paperback)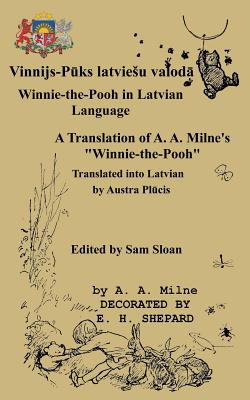 Email staff@bookmarksnc.org for price & availability
Description
---
Winnie-the-Pooh is the most popular children's book in the world. Latvian is a language read and spoken by two million people. Latvians are spread out all over the world, in large part because under Stalin a lot of Russians were moved into Latvia pushing the Latvians out. Many of them are now returning to Latvia. Latvian is an Indo-European Language in the Germanic Group and the Baltic sub-group.
One purpose of this book is to help Latvian speakers learn English and to help English speakers learn Latvian. To have a translation as close as possible to the original is the most useful. The name for Winnie-the-Pooh in Latvian is Lācītis Pū. The Rabbit is Trusītis. Christopher Robin is Pateicis.
Ishi Press has reprinted translations of Winnie-the-Pooh into 32 languages thus far. We have published it in Afrikaans, Armenian, Bengali, Bulgarian, Chinese, Croatian, Danish, Dutch, Esperanto, Finnish, French, German, Greek, Hungarian, Icelandic, Italian, Japanese, Korean, Latvian, Persian, Polish, Russian, Serbian, Spanish, Swedish, Turkish, Yiddish, Hindi, Urdu, Khowar, Kalasha and Latin. We have six more languages lined up.
This translation into Latvian is part of project to translate Winnie-the-Pooh into other languages. The idea is children need to learn to read at an early age and the best way to teach them to read is to provide reading materials they find interesting. Children around the world laugh when they see Winnie-the-Pooh saying and doing silly things. Since Winnie-the-Pooh is the most popular children's book world-wide, translating this book into the different languages of the world will be conducive to teaching children to read in those languages.
We would like to hope that this little bear, Winnie-the-Pooh, can bring peace and unity to the languages of the region.