Winnie-The-Pooh in Azerbaijani a Translation of A. A. Milne's "Winnie-The-Pooh" Into Azerbaijani (Large Print / Paperback)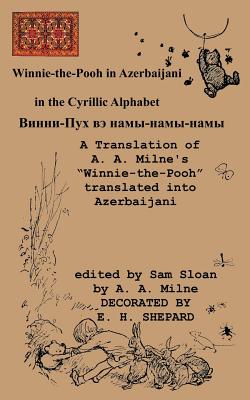 Email staff@bookmarksnc.org for price & availability
Description
---
Winnie-the-Pooh is the most popular children's book in Azerbaijan. It is also the most popular children's book in the world, but it is especially popular in Azerbaijan. Azerbaijani or Azeri is spoken by 26 million people in the Republic of Azerbaijan and in Iranian Azerbaijan. There are also speakers in Turkey. It is a Turkic language intelligible with Istanbul Turkish. The Republic of Azerbaijan has a population of 10 million. The majority of speakers of Azerbaijani Language are in Iran. This translation of Winnie-the-Pooh is taken from the book Vinni-Pukh vă ḣamy-ḣamy-ḣamy in Cyrillic alphabet published in 1977 as Винни-Пух вэ намы-намы-намы The Azerbaijani alphabet was Cyrillic during Soviet times. Then they changed to Latin in early 90s after the collapse of the Soviet Union. Azerbaijani changed alphabet three times in 20th century.
Of the 15 republics of the Soviet Union, five were speaking the same language, based on Turkish. Kazakhstan, Azerbaijan, Kirghizia, Turkmenia and Uzbekistan all basically spoke the same language. The Yakuts, who live in the Sakha Republic in North-Eastern Siberia bordering on the Arctic Ocean, also speak a Turkic language.
Ishi Press has reprinted translations of Winnie-the-Pooh into 43 languages thus far. We have published it in Afrikaans, Albanian, Arabic, Armenian, Azerbaijani, Bengali, Bulgarian, Cebuano, Chinese, Croatian, Czech, Danish, Dutch, Esperanto, Finnish, French, Frisian, German, Greek, Hungarian, Icelandic, Italian, Japanese, Korean, Latvian, Persian, Polish, Portuguese, Russian, Serbian, Sinhalese, Slovenian, Spanish, Swedish, Turkish, Ukrainian, Vietnamese, Yiddish, Hindi, Urdu, Khowar, Kalasha and Latin. We have three more languages ready. This translation into Azerbaijan is part of project to translate Winnie-the-Pooh into other languages. The idea is children need to learn to read at an early age and the best way to teach them to read is to provide reading materials that they find interesting. Children around the world laugh when they see Winnie-the-Pooh saying and doing silly things. Since Winnie-the-Pooh is the most popular children's book world-wide, translating this book into the different languages of the world will be conducive to teaching children to read in those languages.