A Memory of Nightshade (Hardcover)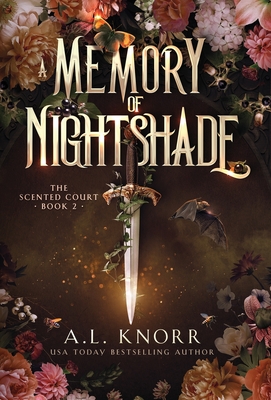 Unavailable in store; contact staff@bookmarksnc.org to check price and order availability
Description
---
Powerful enchantments. Danger lurking in every corner. Can this trio of unlikely friends serve the fae crown without triggering another disaster?
Jessamine is heartbroken over an unexpected tragedy but has no time to grieve before the throne delivers an ultimatum: become a spy or face banishment.
Laec is under house-arrest for his part in ifta's rescue but still keeping his eyes and ears open for his Seelie queen. He's suspicious of the winter kingdom leaving their lands for the first time in forty years and arriving at the Scented Court... where dire predictions of darkness loom. Can he prove himself to the court, and maybe ifta's father?
ifta longs to command her own future. She is safe-for now-in Solana, a place that appreciates her talents. But can she convince her father to annul the betrothal, without putting more lives at risk?
As their paths converge at the famed Midwinter Festival, the three schemers uncover threads of a twisted plot. With life, limb, and love on the line, they realize joining forces once again is the only hope of stopping an encroaching evil. Will their secret maneuvers bring them back into sovereign favor or leave them out in the treacherous cold?
A Memory of Nightshade is the lush second book in The Scented Court a young adult epic fantasy series. If you like suspenseful adventures, witty dialogue, and forbidden romance, then you'll adore A.L. Knorr's faerie realm.