Goddess in the Machine (Hardcover)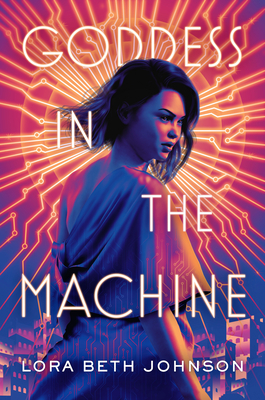 $18.99
Order Processes in 1-5 Days Depending on Store Stock
Staff Reviews
---
Goddess in the Machine really smacked me across the head, and I say that with nothing but affection. I was not expecting the reworking of the English language to go the whole time nor was I expecting to sink completely into it, like it wasn't different at all. The world is absolutely beautiful, and the mystery!! The mystery that none of us were expecting! I can only imagine that the scream I let out when it was revealed what had happened was the same that people that watched the original planet of the apes for the first time also let out. And our second main character and love interest! I can't submit this review without yelling about how wonderful he was and how incredible of a foil he is for Andra. Book two is really gonna be something else.
— Cat
Description
---
Andra wakes up from a cryogenic sleep 1,000 years later than she was supposed to, forcing her to team up with an exiled prince to navigate an unfamiliar planet in this smart, thrilling sci-fi adventure, perfect for fans of Renegades and Aurora Rising.

When Andra wakes up, she's drowning.

Not only that, but she's in a hot, dirty cave, it's the year 3102, and everyone keeps calling her Goddess. When Andra went into a cryonic sleep for a trip across the galaxy, she expected to wake up in a hundred years, not a thousand. Worst of all, the rest of the colonists--including her family and friends--are dead. They died centuries ago, and for some reason, their descendants think Andra's a deity. She knows she's nothing special, but she'll play along if it means she can figure out why she was left in stasis and how to get back to Earth.

Zhade, the exiled bastard prince of Eerensed, has other plans. Four years ago, the sleeping Goddess's glass coffin disappeared from the palace, and Zhade devoted himself to finding it. Now he's hoping the Goddess will be the key to taking his rightful place on the throne--if he can get her to play her part, that is. Because if his people realize she doesn't actually have the power to save their dying planet, they'll kill her.

With a vicious monarch on the throne and a city tearing apart at the seams, Zhade and Andra might never be able to unlock the mystery of her fate, let alone find a way to unseat the king, especially since Zhade hasn't exactly been forthcoming with Andra. And a thousand years from home, is there any way of knowing that Earth is better than the planet she's woken to?
About the Author
---
As an only child, Lora Beth Johnson grew up telling herself stories and reading past her bedtime. She spent her adulthood collecting degrees, careers, and stamps in her passport before realizing her passion for creating fictional worlds. When she's not writing, she's teaching college English and learning new languages. She lives in Davidson, NC with her little roommate, Colocataire the Yorki-poo. Goddess in the Machine is her first book.

Find Lora Beth on Twitter @LoraBethWrites
Praise For…
---
* "An intriguing story filled with politics, science fiction, and romance, and which offers twists and turns galore, right up to the last page . . . A must-purchase for all YA science fiction collections." —School Library Journal, starred review 

"This futuristic reimagining of the Sleeping Beauty fairy tale features impressive world-building and provides a promising start to a dystopian series blending sci-fi adventure with palace intrigue." —The New York Times 

"Johnson's rich, intelligent world blends sci-fi elements with palace intrigue and swoon-worthy characters in a way that is wholly unique and utterly brilliant. This book will make you laugh, make you fall in love, and then it'll blow your mind." —Emily Suvada, award-winning author of the Mortal Coil series

"Utterly inventive and unique, this story has more surprises in store for you than you can imagine." —Beth Revis, New York Times bestselling author of Across the Universe and Give the Dark My Love