Vanessa Yu's Magical Paris Tea Shop (Paperback)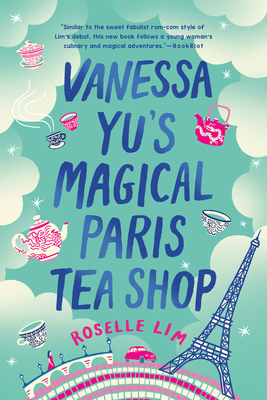 Staff Reviews
---
After a couple of small disasters, reluctant fortune-teller Vanessa Yu realizes she must learn to control her gift of reading prophecies, so she sets off for Paris with her aunt, the only other family member who shares her gift. But once she settles in, Vanessa realizes that her true gift may actually lie in an area much more suited to her personality -- a realization many of us can relate to. This book is as delectably cute as the French pastries Roselle Lim so beautifully describes!
— Kate
Vanessa Yu spent years of her life trying to avoid her gift (curse?)—seeing people's fortunes in the bottom of teacups. Despite her best efforts to fight them, the prophecies keep coming, bringing a host of problems with them. After a matchmaker delivers a startling message about Vanessa's romantic destiny, she realizes she can't continue down her current path. Vanessa heads to Paris to study under her aunt's tutelage, explore everything Paris has to offer, and maybe find a little magic all of her own.
Roselle Lim's VANESSA YU'S MAGICAL PARIS TEA SHOP is charming in every possible way! This is exactly the book I needed right now, and it left me feeling happy and hopeful.
— Beth
Description
---
From the critically acclaimed author of Natalie Tan's Book of Luck and Fortune comes a new delightful novel about exploring all the magical possibilities of life in the most extraordinary city of all: Paris.
 
Vanessa Yu never wanted to see people's fortunes—or misfortunes—in tealeaves.
 
Ever since she can remember, Vanessa has been able to see people's fortunes at the bottom of their teacups. To avoid blurting out their fortunes, she converts to coffee, but somehow fortunes escape and find a way to complicate her life and the ones of those around her. To add to this plight, her romance life is so nonexistent that her parents enlist the services of a matchmaking expert from Shanghai.
 
After her matchmaking appointment, Vanessa sees death for the first time. She decides that she can't truly live until she can find a way to get rid of her uncanny abilities. When her eccentric Aunt Evelyn shows up with a tempting offer to whisk her away, Vanessa says au revoir to California and bonjour to Paris. There, Vanessa learns more about herself and the root of her gifts and realizes one thing to be true: knowing one's destiny isn't a curse, but being unable to change it is.
About the Author
---
Roselle Lim is a Filipino Chinese writer who came to Canada from the Philippines as a young teen and learned English by watching wrestling shows on television. She has a degree in humanities and history from York University.
Praise For…
---
"...similar to the sweet fabulist-romcom style of Lim's debut, this new book follows a young woman's culinary and magical adventures."—BookRiot

"Lim follows Natalie Tan's Book of Luck and Fortune with another picturesque fabulist rom-com…. Lim flexes her descriptive powers…. The eccentric and lovably meddlesome Yu family are a constant delight…. the characters sparkle, the magic successfully enchants, and Lim skewers the anti-Asian racism the Yus face in France with pointed and timely commentary. This feast for the senses will especially appeal to hopeless romantics."—Publishers Weekly

"If you're searching for a summer dose of whimsy, look no further."—Shondaland