The Science of Spin: How Rotational Forces Affect Everything from Your Body to Jet Engines to the Weather (Hardcover)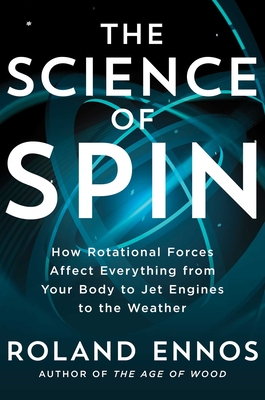 $28.00

Available to order; typically arrives at Bookmarks in 5-10 days
Description
---
From the masterful author of The Age of Wood, a "fascinating" (The Wall Street Journal), "original and highly engaging insight into how our universe works, encompassing black holes, the cotton mills of the industrial revolution, the biomechanics of walking, and more" (Paul Sen, author of Einstein's Fridge).

From the time humans first used rotating bobbins to twist thread or whirled slings around their heads to throw stones, people have found spin fascinating and baffling in equal measure. Now, in The Science of Spin, Roland Ennos shows how rotational motion dominates the workings of the world around us. It has shaped the solar system, galaxies, and black holes. It controls our climate and weather—from the pattern of trade winds to the local formation of hurricanes and tornadoes. Harnessing the power of spin helped launch civilization, from the first developments of the wheel to the systems that now add force the industrial world—propellers, turbines, centrifugal pumps, electric motors, and computer disk drives. Even our own bodies are complex systems of rotating joints and levers.

Yet scientists tend to ignore the simple and straightforward. So, in the 17th-century they developed the science of mechanics to explain the phenomenon of the orbit of the planets rather than how machines work. But few people realize how spin makes our planet habitable, or how it has been tamed by engineers to make our lives more comfortable.

With "lucid and clear" (Mark Miodownik, author of Stuff Matters) explanations, Ennos presents a new approach to mechanics that not only helps us better understand the world, but also reveals unlikely links between tightrope walkers and tyrannosaurs, catapults and tennis players, stunt cars and long jumpers. He shows us that by opening our minds, we can all learn to move about more gracefully, play sports more successfully and safely—and ensure that, like cats, be sure to always land on our feet. "There's plenty to ponder" (Kirkus Reviews) in this highly entertaining and informative read demonstrating that, whether it be natural or engineered, spin is what really makes the world go round.
About the Author
---
Roland Ennos is a visiting professor of biological sciences at the University of Hull. He is the author of successful textbooks on plants, biomechanics, and statistics, and his popular book Trees, published by the Natural History Museum, is now in its third edition. He is also the author of The Age of Wood and The Science of Spin. He lives in England.
Praise For…
---
"Fascinating. . . . More than a few authors have found success with books that look at a broad swath of history, ideas or science through the lens of a single topic. . . . Ennos elevates this approach to dizzying heights in The Science of Spin. . . . [he] really gets rolling when he describes how much of human flourishing through history has involved harnessing the power of spin." —Wall Street Journal

"An original and highly engaging insight into how our universe works, encompassing black holes, the cotton mills of the industrial revolution, the biomechanics of walking and more!" —Paul Sen, author of Einstein's Fridge

"A basic scientific concept receives long overdue attention . . . Generous with charts and pictures . . . there's plenty to ponder." —Kirkus Reviews

"This is a wonderfully fascinating book with answers to so many everyday questions you never knew you needed to know. The explanations are lucid and so clear that the one thing it doesn't do is cause your head to spin." —Mark Miodownik, author of Stuff Matters