The Most Powerful Woman in the Room Is You: Command an Audience and Sell Your Way to Success (Paperback)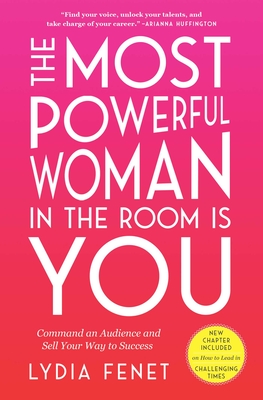 $17.99

Available to order; typically arrives at Bookmarks in 5-10 days
Description
---
The Senior Vice President of Christie's and seasoned auctioneer Lydia Fenet, with her "razor-sharp humor and her don't-mess-with-me gavel strike" (Mariska Hargitay, star of Law & Order: Special Victims Unit), shares the secrets of success and the strategies behind her revolutionary sales approach to show you how to embrace and channel your own power in any room.

Who is the most powerful woman in the room? She's the one who can raise a million dollars in a minute. She's the one who can command the attention of a group of any size from one person to five thousand. She's the one who can sell anything to anyone. And she can be you.

As a senior executive at Christie's, leader in her field, and one of Gotham magazine's Most Influential Women in New York, Lydia Fenet knows firsthand that the one skill that can set women apart in both their personal life and career is the ability to sell. The Most Powerful Woman in the Room Is You equips you with everything you need to know—from how to sell authentically and how to network (or die), to the importance of never apologizing (start negotiating instead), how to perfect your poker face, and always, always, tell the truth. Most of all, she offers plenty of encouragement to take ownership in your position and look for opportunities to innovate.

Filled with additional case studies, thoughtful insights, and meaningful advice from some of the most powerful and successful women in business, fashion, journalism, sports, and the arts, The Most Powerful Woman in the Room Is You "is an insightful, inspiring guide for women who are trying to claim their own seat at the table" (New York Journal of Books).
About the Author
---
Lydia Fenet is a global thought leader who has led auctions and raised over a billion dollars for nonprofits globally. Lydia takes auctions all over the world as a Christie's Ambassador and the principal auctioneer for Broad Arrow Auctions. Lydia travels internationally as a keynote speaker inspiring people to unlock their sales potential and empowering women in the workplace. She is the host of the eponymous Claim Your Confidence podcast. She was named one of Gotham magazine's most influential women and has been featured in The New York Times, Vogue, Elle, The Wall Street Journal, Forbes, and Crain's. She is the author of Claim Your Confidence and her widely acclaimed book The Most Powerful Woman in the Room Is You was optioned by Netflix. She lives in New York City with her husband and three children.
Praise For…
---
"We all agree that we need more women leaders—the question is how to get there. One of the answers is Lydia Fenet."


— Arianna Huffington, Founder & CEO, Thrive Global

"Lydia knows how to get the attention of a room immediately, gavel or not, so who better to write the book on how to be the most powerful, the most dynamic and captivating woman in the room than she."
— Martha Stewart

"Lydia Fenet shares the secret sauce all women need to feel empowered… the most powerful woman in the room really is you!"


— Barbara Corcoran

"With the help of her razor-sharp humor and her don't-mess-with-me gavel strike, she can run a room like no one I've ever seen."
— Mariska Hargitay

"The Most Powerful Woman in the Room Is You is an insightful, inspiring guide for women who are trying to claim their own seat at the table. Fenet's frank, no-nonsense writing style and approachable tactics can't help but inspire readers to reach for their own goals in new, bigger ways. "


— New York Journal of Books