15-Minute Focus: Diversity, Bias, and Privilege: Addressing Racial Inequities to Create Inclusive Learning Environments: Brief Counseling Techniques T (Paperback)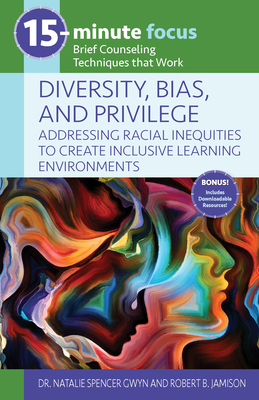 $15.95

Order Processes in 1-5 Days Depending on Store Stock
Description
---
In 15-Minute Focus: Diversity, Bias, and Privilege, Dr. Natalie Spencer Gwyn and Robert B. Jamison give educators, counselors, and administrators knowledge, strategies, and resources that can create a safe, culturally diverse learning environment for all students.
Whom can students turn to when they encounter racism and bias? How are these experiences impacting their mental health? Can students feel safe in our schools? If you have ever asked yourself these questions or had students come to you with concerns about racism and lack of diversity, this book is for you.
As our nation grows in its cultural and ethnic diversity, our school populations have also changed. In an ideal world, schools would serve as a welcoming place for all students regardless of ethnicity. Unfortunately, many schools have become a place of racial discord, racism, bias, and discrimination. Unequal access to services, lack of resources, and biased practices contribute to an education system that fails to educate, serve, and support every student.
In this book, you'll discover:
Key terms that provide clarity when discussing race, ethnicity, bias, and privilege
The impact of bias and privilege on school performance
Tips for building supportive schools of diverse learners
Strategies for educators, counselors, and administrators to promote bias-informed education
The critical role empathy plays in correcting course
Assessments, curated resources, and more
Each chapter includes a case study that illustrates an aspect of diversity, along with questions to apply the book's principles in your own context. In addition, Gwyn and Jamison provide a comprehensive list of tools adults can use to become more culturally aware as well as create more culturally diverse and inclusive classrooms and schools.
About the Author
---
Dr. Natalie Spencer Gwyn is a Core Faculty Member at Walden University and a Licensed Clinical Mental Health Counselor (LCMHC). She received her undergraduate and master's degrees from the University of North Carolina at Chapel Hill. Natalie later earned a doctorate in Counselor Education and Supervision from North Carolina State University. She is the owner of Gwyn Counseling and Wellness, and is both an author and speaker.Robert B. Jamison currently serves as a coordinator of school counseling services for a large suburban school division and has years of experience as a school counselor and school counseling department chair. He received a Bachelor of Arts in Psychology from the University of Virginia as well as his Master of Science in Education in School Counseling and his Education Specialist degrees from Old Dominion University. Mr. Jamison has also supported school counselors and educators as a member of the Board of Directors for a state school counselor association; and, he served on a state commission for Diversity, Equity, and Inclusion.