The Book of the Seven Spells: Guardians (Paperback)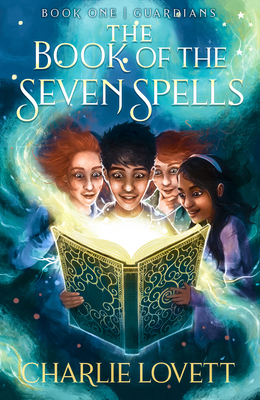 Description
---
Sebastian Garcia, Juliet Okofor, and twins Angus and Celia McNeil could not be more different from one another. But when they accidently discover an enchanted house that once belonged to the great magician, Moriarty Mortimer, everything changes.
Legend has it that somewhere inside the mysterious mansion is the most powerful book of magic ever known, and the kids aren't the only ones hoping to find it. Someone unexpected wants to use it for their evil plan.
Now, they must find the book and use a spell to travel back in time to convince Moriarty Mortimer to teach them magic well enough to defeat a maniacal mad man.
But magic is tricky, so they must work as a team. If they fail, unimaginable power will fall into exactly the wrong hands. If they succeed, they'll go from magicless misfits to guardians of The Book of the Seven Spells.
About the Author
---
Charlie Lovett lives in a house full of old books and can often be found reading on his back porch with his dog Rosie curled up next to him. He loves to run, watch movies, and travel, but most of all he loves to tell stories. He wrote The Book of the Seven Spells for a group of young friends, and he hopes you like it as much as they do. Charlie is the New York Times bestselling author of The Bookman's Tale and other novels for adults. His award winning plays for children have been seen in nearly 5000 productions around the world.
Praise For…
---
"With mystery, adventure, magic, puzzles, and four diverse protagonist, bestselling adult author Charlie Lovett jumps into the world of young readers and embarks on a new middle grade series with his patented skill, perspective, and historical knowledge. Using the protagonists' self-doubts and strengths, Lovett deftly crafts a magical message of empathy. His world-building is cinematic, and his writing is smart, clever and fun. THE BOOK OF THE SEVEN SPELLS will find a wide range of readers." —Kristen Gilligan, Owner, Tattered Cover Bookstores, Denver, CO

"THE BOOK OF THE SEVEN SPELLS is an action-packed story about powerful magical books and fabled histories, heartfelt friendships and the journey of a team of children to discover their truth and find themselves. THE BOOK OF THE SEVEN SPELLS is a treasury of moving character development, quirky dialogue and exciting plot twists that is sure to have all readers wishing for more. I really like the recipe of this book from start to finish!" —Drew Durham, Children's Specialist, Books, Inc., Burlingame, CA

"Full of adventure, this book captivated me from page one. I love the characters and rich storytelling that always makes Lovett's books exciting and engaging. In my experience as a bookseller and community organizer, I come into contact with many parents and teachers who are looking simply for 'good stories' for their kids. This is the book I want to give them." —Jamie Rogers Southern, Operations Manager, Bookmarks, Winston-Salem, NC & SIBA Board Member

"Kids will root for its heroes and heroines—plucky, flawed, skillful, and brave—and will devour the way book knowledge and child-driven research makes plausible the unfolding of the mystery of Hedley Helm and Mortimer Mansion. Likewise, librarians will appreciate the clear writing, suspenseful plot, and the thoughtful portrayal of each character's insecurities, fears, and talents. It is excellent to see a middle grade fantasy novel feature such a diverse cast of characters! I liked that the characters confronted issues of race, gender, class, and more throughout the novel, showing how assumptions based on the way kids look or act can do harm to them (or become internalized over time). I loved how Charlie developed empathy in each protagonist; by the end of the novel, you didn't just see them come together as a regular school-crew: it made perfect, believable sense. In short, I really did love it!" —Aubrey Restifo, Middle Grade & YA Specialist, Northshire Bookstore, Manchester, NH

All reviews and pull quotes below are for the author's previous works:

"A pleasurably escapist trans-Atlantic mystery is intricately layered with plots, murders, feuds, romances, forgeries—and antiquarian book dealing." —Kirkus

"Fans of mysteries, of love stories, and of rare books will all find moments in Lovett's novel to treasure." —Booklist

"I don't read much fiction. I'm picky. But I loved racing through Charlie Lovett's The Bookman's Tale, a richly rewarding thriller filled with real-world details about the discovery of a rare book that may or may not be a priceless Shakespearean artifact. Fun for everyone who's ever fondled a soft leather binding!" —DANIEL SINGER, founder, Reduced Shakespeare Company and co-author of The Complete Works of William Shakespeare (Abridged)

"[A] suspenseful romp spanning centuries and continents and peppered with romance, skulduggery, forgery and murder, all driven by one of the enduring questions of literary scholarship." —Washington Post 

"The Bard is back in this rollicking literary mystery….This novel has something for everyone: William Shakespeare, a love story, murder and even a secret tunnel." —Star Tribune

"A Bookman's Tale has plenty of richness to offer….Daring intricacy." —The Atlanta Journal-Constitution

"Da Vinci Code–like sleuthing into the works of Shakespeare and sliding back to the bard's time." —Library Journal

"A treat." —New York Journal of Books