Under the Ocelot Sun / Bajo el sol del Ocelote (Hardcover)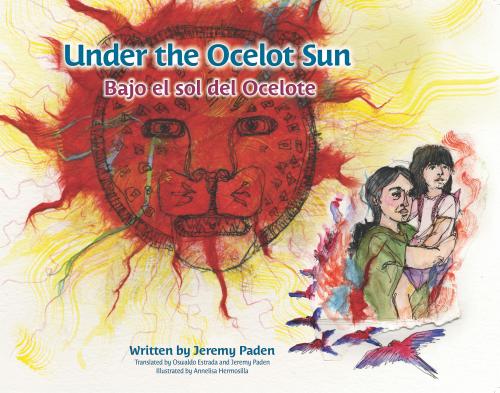 $18.99
Email or call for price.
Description
---
Precious things are worth a thousand-mile walk, mija…

Las cosas preciousas valen una caminata de mil millas, mija…

"Spoken by a mother to her small daughter as they are detained at a border wall, Under the Ocelot Sun is a powerful account of refugees' plight. The mother speaks of the beauty of their Honduran homeland and of her abuela's wisdom. She also touches on the violent forces they are fleeing. She wants her little one to know her heritage and why they have taken this perilous journey. Lyrically told (in English and Spanish) and vibrantly illustrated, this is a picture book for our time."

George Ella Lyon

Kentucky Poet Laureate 2015–2016

The Ocelot Sun refers to the Nahua creation myth of the Five Suns. Each sun corresponds to an age, or a creation event. The Nahui-Ocelotl is the first sun, or first creation event. At that time, the world was ruled by giants and the gods sent ocelots or jaguars to destroy the earth and start again. Under the Ocelot Sun is a story of hope and survival in times of trouble.


A portion of the net proceeds from the sale of Under the Ocelot Sun will go to support the work of El Futuro of North Carolina, a 501(c)(3) nonprofit outpatient clinic that provides comprehensive mental health services for Latino families in a bilingual environment of healing and hope.
About the Author
---
JEREMY PADEN was raised in Nicaragua, Costa Rica, and the Dominican Republic. He is a poet, translator, and professor of Latin American literature at Transylvania University in Lexington, Kentucky. He is the author of three collections of poems. Among these, ruina montium, about the 2010 Chilean mine collapse, has been published in both English (Broadstone Books, 2016) and Spanish (Valparaíso, 2018). He is also the translator for various poets from Argentina, Chile, Colombia, and Spain. Paden is the author and co-translator of Under the Ocelot Sun.
ANNELISA HERMOSILLA was raised in Panama City, Panama, and moved to the United States to study art at Transylvania University. She currently lives in Virginia and is a promising artist at the beginning of her career. This is her first picture book. You can find more of her art at www.annelisadoestheart.com.
Oswaldo Estrada was raised in Lima, Peru, until his family moved to the United States when he was a teenager. He is a fiction writer, essayist, and professor of Latin American literature at the University of North Carolina at Chapel Hill, and he has authored and edited several books of Latin American literary and cultural criticism. He is also the author of a children's book, El secreto de los trenes (Universidad Autónoma Metropolitana, 2018), and a collection of short stories, Luces de emergencia (Valparaíso, 2019).
Praise For…
---
"In this bilingual book, a mother shares the story of her beloved homeland and its struggles to survive growing political corruption, violence, and poverty. She weighs the risks and possible rewards of immigration in bittersweet verses. They alternate between English text in azul and Spanish text in rosa oscuro. Haunting, beautiful watercolors and pen and ink drawings highlight the proud traditions of the Central American Nahuas. This emotional narrative beseeches everyone, everywhere, to understand why some things are worth dying for."
Foreword Reviews



"Spoken by a mother to her small daughter as they are detained at a border wall, Under the Ocelot Sun is a powerful account of refugees' plight. The mother speaks of the beauty of their Honduran homeland and of her abuela's wisdom. She also touches on the violent forces they are fleeing. She wants her little one to know her heritage and why they have taken this perilous journey. Lyrically told (in English and Spanish) and vibrantly illustrated, this is a picture book for our time."

George Ella Lyon

Kentucky Poet Laureate 2015–2016