Disrupting the Bystander: When #metoo Happens Among Friends (Paperback)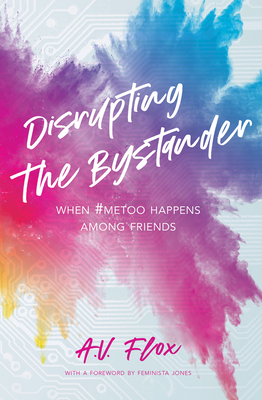 $14.95
Order Processes in 1-5 Days Depending on Store Stock
Staff Reviews
---
Ever asked yourself "How on Earth am I going to be helpful in this situation?!?" when finding out that a friend has been assaulted -OR- has assaulted someone themselves? Start by reading this timely and powerful book.
— Em J.
Description
---
We were not prepared for #metoo when it blew up Twitter in October 2017. In many ways, we still aren't. What do we do when we learn a friend has been harmed? And what does it mean to be a good friend when someone we love caused the harm?

We live in a society that confines survivors to silence. Our only avenues to address harm do little to prevent its recurrence. Trapped within a binary of silence or punishment, it's no wonder so many of us remain paralyzed even as the disclosures continue. Punishment requires both certainty and authority, which most bystanders lack. But once the silence has been broken, we can't return to it. Few of us are strangers to the nagging feeling that arises within that paralysis. We intuit—correctly—that we have some kind of responsibility when harm happens in our communities, but what is it? And if we have responsibility, do we have rights?

Combining behavioral neuroscience and insights from those on the frontlines of harm intervention, Disrupting the Bystander helps us break out of paralysis so that we can best support those we love—whether they were hurt or hurt someone else.
About the Author
---
A.V. Flox is a journalist who has written for the LA Times, Village Voice, LA Weekly, VICE, and Gizmodo. Feminista Jones is a social worker, in-demand feminist writer, public speaker, and community activist currently residing in Philadelphia. 
Praise For…
---
"An essential handbook for supporting those who have been harmed, while also caring for yourself. If you've ever felt helpless in the face of someone else's discomfort or pain, this book will teach you how to show up and stand up." —Laszlo Bock, CEO of Humu and author of Work Rules! Insights from Inside Google to Transform How You Live and Lead
"A must-read for anyone interested in repairing harm in their communities. Using a combination of personal narrative and research, A.V. Flox provides a map for helping others to heal while continuing to hold abusive individuals accountable. We all know people who people who have been harmed and people who have harmed. This is why everyone should read this book." —Kelly Sundberg, author of Goodbye, Sweet Girl: A Story of Domestic Violence and Survival
"A.V. Flox effectively and empathically interweaves personal experiences with a deep intuitive understanding of how the nervous system adaptively shifts bodily states to support survival in the short term, while simultaneously disrupting our health and our ability to connect, co-regulate with loved ones, and compassionately witness another's trauma." —Stephen W. Porges, PhD, Distinguished University Scientist and Founding Director of the Traumatic Stress Research Consortium in the Kinsey Institute, Indiana University and professor of psychiatry at the University of North Carolina
"I'm both thrilled and relieved that A.V. Flox's important work is now unleashed upon the world. Our communities need better guidelines for reducing harm, ones that are informed by neuroscience and the mechanics of trauma, and I can't think of a more meticulous and conscientious author to handle the task." —Arden Leigh, creator of The Re-Patterning Project and frontwoman of Arden and the Wolves
"A book filled with practical, concrete wisdom—even for those of us who have to work at understanding humans—to operate a community of support and accountability in situations where we often find ourselves at a loss." —Lea Kissner, Chief Privacy Officer, Humu
"An urgent and hopeful guide to helping survivors feel safe and find justice that transforms rather than punishes. Whether you're a friend of a survivor or someone who has done harm, you'll find answers here to the impossible question posed by #metoo: What do we do with these perpetrators now?" —Ella Dawson, sex and culture writer
"The emotional wisdom and depth of research in this book is incredible. Anyone supporting someone through trauma needs this book." —Aleatha Parker-Wood, machine learning and privacy researcher
"A brilliant and accessible guide that gives readers a toolkit for converting themselves and friends from bystanders to activists in the #metoo era. This timely book provides rationale, resources, and starting points aimed towards restoration and transformation for even those with the most complex of traumas." —Chrissy Holman, President of Open Love NY and Communications Lead, APA Division 44 CNM Task Force