Carmen Dog (Peapod Classics) (Paperback)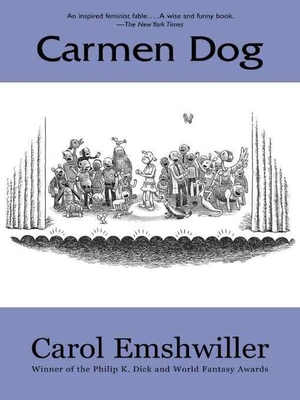 Description
---
"Combines the cruel humor of Candide with the allegorical panache of Animal Farm."--Entertainment Weekly
Carol is the most unappreciated great writer we've got. Carmen Dog ought to be a classic in the colleges by now . . . It's so funny, and it's so keen.
--Ursula K. Le Guin
"A rollicking outre satire.... full of comic leaps and absurdist genius."--Bitch
"A wise and funny book."--The New York Times
This trenchant feminist fantasy-satire mixes elements of Animal Farm, Rhinoceros and The Handmaid's Tale.... Imagination and absurdist humor mark Carmen Dog] throughout, and Emshwiller is engaging even when most savage about male-female relationships.--Booklist
Her fantastic premise allows Emshwiller canny and frequently hilarious insights into the damaging sex-role stereotypes both men and women perpetuate.
--Publishers Weekly
The debut title in our Peapod Classics line, Carol Emshwiller's genre-jumping debut novel is a dangerous, sharp-eyed look at men, women, and the world we live in.
Everything is changing: women are turning into animals, and animals are turning into women. Pooch, a golden setter, is turning into a beautiful woman--although she still has some of her canine traits: she just can't shuck that loyalty thing--and her former owner has turned into a snapping turtle. When the turtle tries to take a bite of her own baby, Pooch snatches the baby and runs. Meanwhile, there's a dangerous wolverine on the loose, men are desperately trying to figure out what's going on, and Pooch discovers what she really wants: to sing Carmen.
Carmen Dog is the funny feminist classic that inspired writers Pat Murphy and Karen Joy Fowler to create the James Tiptree Jr. Memorial Award.
About the Author
---
Carol Emshwiller is the author of the collections Report to the Men's Club, The Start of the End of it All, Verging on the Pertinent, Joy in Our Cause, and I Live With You, and the novels The Mount, Carmen Dog, Ledoyt, and Leaping Man Hill.