Developmentally Appropriate Practice in Early Childhood Programs Serving Children from Birth Through Age 8 (Naeyc) (Paperback)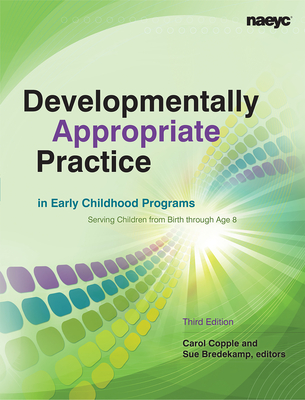 Email staff@bookmarksnc.org for price & availability
Description
---
The book Developmentally Appropriate Practice has been an essential resource for the early childhood field since its first edition in 1987. This third edition is the most extensive yet, fully revised to align with the latest research on development, learning, and teaching effectiveness.
In this book, early childhood practitioners and students will find a wealth of information:
- NAEYC's official Position Statement on Developmentally Appropriate Practice
- A chapter by Carol Copple and Sue Bredekamp that makes clear the connection between DAP and excellent teaching, and challenges the field to think about developmentally appropriate practice with more openness and precision
- Overviews of children's development and learning in four periods of life: the infant and toddler years, the preschool years, the kindergarten year, and the primary grades
- Pages of specific examples for each age period describing key practices seen in high-quality early childhood settings (centers and school classrooms as well as family child care)--and, by contrast, practices that are less likely to serve children well
A CD of additional resource material will further support learning:
- More than 60 readings (pdf format) taken from Young Children articles and NAEYC's books and position statements that relate to, expand on, and explain DAP concepts mentioned in the book - Two dozen video examples from real early childhood classrooms, plus commentary text, that highlight significant elements of developmentally appropriate practice in action
About the Author
---
Carol Copple is director of Publications and Initiatives in Educational Practice at NAEYC. She was on the faculty at Louisiana State University and the New School for Social Research. At the Educational Testing Service she co-developed and directed a research-based model for preschool education and conducted research on children's cognition. Her previous publications include Developmentally Appropriate Practice in Early Childhood Programs (Bredekamp & Copple 1997), Basics of Developmentally Appropriate Practice: An Introduction for Teachers of Children 3 to 6 (Bredekamp & Copple 2006), and Education the Young Thinker: Classroom Strategies for Cognitive Growth (Copple, Sigel, & Saunders 1984). She received her doctorate from Cornell University. Sue Bredekamp is an early childhood education consultant in Washington, DC. She has consulted for NAEYC, the Council for Professional Recognition, the Head Start BUreau, and state and local departments of education, and served on the Committee on Early Childhood Mathematics of the National Research Council. She developed a satellite television course on early literacy, HeadsUp! Reading. While director of Accreditation and Professional Development at NAEYC (1981-1998), she coauthored major NAEYC position statements and publications, including accreditation standards, on developmentally appropriate practice, curriculum and assessment, and learning to read and write. Currently she is writing a textbook, to be titled Effective Practices in Early Childhood Education: Becoming an Intentional Teacher. Her doctorate is from the University of Maryland.