On Dolls (Hardcover)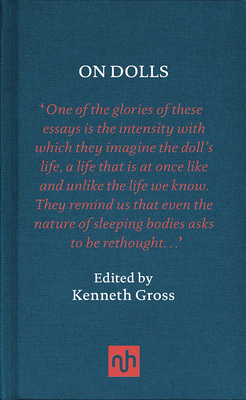 Email staff@bookmarksnc.org for price & availability
Description
---
Some of the greatest thinkers and writers of our age meditate on play and the mysteries of inanimate life.

This unusual literary collection contains writings from Baudelaire, Kleist, Rilke, Freud, Kafka, Walter Benjamin, Bruno Schulz, Elizabeth Bishop, Dennis Silk, and Marina Warner.

The essays and reflections explore the seriousness of play and the mysteries of inanimate life - 'the unknown, spaces, dust, lost objects, and small animals that fill any house' - which have provoked many writers to take the side of these dead or non-human things, resulting in some of the most profound passages in literature. The collection is introduced and edited by Kenneth Gross.

On Dolls includes contributions from: Heinrich Von Kleist 'On the Marionette Theatre', Charles Baudelaire 'The Philosophy of Toys', Sigmund Freud 'The Uncanny', Rainer Maria Rilke 'On the Dolls of Lotte Pritzel', Frank Kafka 'The Cares of a Family Man', Bruno Schulz 'Tailor's Dummies', Walter Benjamin 'Old Toys: The Toy Exhibition at the Markisches Museum', Elizabeth Bishop, 'Cirque d'Hiver', Dennis Silk 'The Marionette Theatre', and Marina Warner 'On the Threshold: Sleeping Beauties'.
About the Author
---
Kenneth Gross is the author of The Dream of the Moving Statue (1992), Shakespeare's Noise (2001), and Shylock is Shakespeare (2006). His Puppet: An Essay on Uncanny Life (2011) was co-winner of the George Jean Nathan Award for Dramatic Criticism. A former fellow of the Guggenheim, Bellagio, and Bogliasco Foundations, and the American Academy in Berlin, he teaches English at the University of Rochester.
Praise For…
---
"The eleven gems assembled cast light on thoughts that startle and soothe. What does it mean to play along? And what else would it be good to consider about our playmates of choice? A visit to a dollhouse is probably best kept brief, but once you've begun wandering your way through this collection it's hard to leave off wondering...." —Helen Oyeyemi

"Gross brings together in one beautiful volume key texts about the uncanny world of inanimate beings…[Heinrich Von Kleist's] 'On Marionette Theatre' makes the unsettling case that the marionettes' experience is superior to man's bondage in living flesh." —The Guardian, Sjón, "From Frankenstein to Pinocchio: top 10 artificial humans in fiction"
 
"Perhaps in future Notting Hill Editions could provide each book with a pencil attached to a bookmark, since each book has the kind of turn of phrase that makes me itch to underline." —The Scotsman

"Kenneth Gross is particularly illuminating about the passionate intensity or violent hunger for being that seems to be the particular characteristic of puppets; it is as though, as the fossilised form of human longing, the puppet longs in turn, vividly and vivaciously, for the life that can never be its own." —Steven Connor, Literary Review

"[A] thoughtful and stimulating enquiry into mankind's relationship with simulchra." —Dazed
 
"...[There is] a masterly 1810 essay on marionette theatre by Heinrich von Kleist—a great German writer little regarded in the English-speaking world—which in the space of half a dozen pages expresses as much about the nature of art, consciousness and human freedom as all of Goethe's and Schiller's philosophical musings taken together. Yes, it is that good. And it can be found, along with a number of other pieces on the same theme, in a handsome and delightful little volume from Notting Hill Editions, On Dolls." —John Banville, The Guardian
 
"Kenneth Gross's On Dolls is a fascinating and intermittently creepy compilation of writings on dolls, puppets and other lifelike toys. Here is Baudelaire, in 'The Philosophy of Toys' (1853), contemplating the infant urge to destroy the most treasured plaything: '"Finally he prises it open, for he is the stronger party. But where is its soul? This moment marks the beginning of stupor and melancholy.'" —Brian Dillon, The Irish Times
 
"Kenneth Gross is particularly illuminating about the passionate intensity or violent hunger for being that seems to be the particular characteristic of puppets, it is as though, as the fossilised form of human longing, the puppet longs in turn, vividly and vivaciously, for the life that can never be its own."—Steven Connor, on "Puppet: An Essay on Uncanny Life," in Literary Review (on "Puppet: An Essay on Uncanny Life" by Kenneth Gross)