Byzantine Infantryman: Eastern Roman Empire c.900-1204 (Warrior) (Paperback)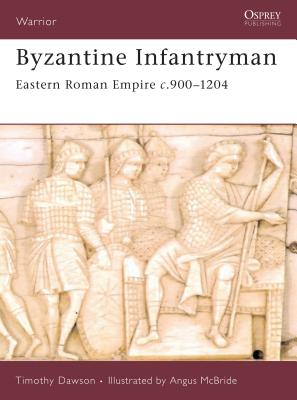 Email staff@bookmarksnc.org for price & availability
Description
---
Osprey's survey of Byzantine infantrymen during the Middle Ages. Having been trained to operate in small, highly mobile eight-man units adept at living off the land whilst on campaign, the Byzantine infantryman was a formidable foe. Built on a strong belief system that emphasized stealth, surprise, swift maneuvering, and overwhelming force, the Byzantine infantryman was trained in survival, sword, spear and archery techniques, as well as land and sea combat and fighting within the foulkon "turtle" formation.

This book, written by Timothy Dawson, an expert in the training and techniques of the Byzantine Army, details the everyday experience of the infantryman from his recruitment, through his twice-a-day training regime, to his encounters with his enemies.
About the Author
---
Dr Timothy Dawson gained his PhD in Classics (Byzantine Studies) in 2003. He has lectured and written extensively on Byzantine, Greek and Roman armies. He is editor of Medieval History Magazine and a keen reenactor. Timothy operated Australia's first historical European combat school, Amyna (Greek for 'defence'), near Sydney from 1984-87. Since then he has gone on to be internationally recognized as an expert on certain forms of arms and armor. The author lives in Yorkshire, UK.
Praise For…
---
"Timothy Dawson's Byzantine Infantryman: Eastern Roman Empire tells of the philosophy and tactics of the early Byzantine Army, surveying daily life of the warrior society." —The Bookwatch (December 2007)