The Great Clans of Rokugan: Legend of the Five Rings: The Collected Novellas Volume 2 (Paperback)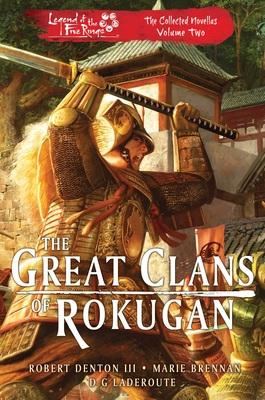 $19.95
Unavailable in store; contact staff@bookmarksnc.org to check price and order availability
Description
---
Return to the epic fantasy realm of Rokugan's samurai and magic in the collected Legend of the Five Rings novellas, featuring an all-new story of the Lion Clan

Deathseeker by Robert Denton III – a shamed Lion Clan warrior finds a chance for redemption when she discovers a foundling with magical ancestry, whose secrets could change everything.

The Eternal Knot by Marie Brennan – a young monk with a mysterious tattoo must learn to embrace her destiny and become a superhuman hero of the Dragon Clan.

Trail of Shadows by D G Laderoute – the quest for a lost relic leads a team of bold Crab Clan samurai into a dangerous expedition through the monster-haunted depths of Shinomen forest.

Plus, the Legend of Five Rings Halloween tales – a collection of spooky Rokugan stories – never before collected in print.
About the Author
---
ROBERT DENTON III lives in the New River Valley of Virginia with his wife and three spoiled cats. He's written extensively for the Legend of the Five Rings setting, including dozens of short stories, contributions to the fourth and fifth editions of the Legend of the Five Rings Roleplaying Game, and his first novella, The Sword and the Spirits. As an author of tabletop roleplaying games, his works include Tiny Taverns: A Slice-Of-Life Fantasy Roleplaying Game and the underwater fantasy setting Destiny of Tides.

MARIE BRENNAN is a former anthropologist and folklorist who shamelessly pillages her academic fields for inspiration. She recently misapplied her professors' hard work to The Night Parade of 100 Demons and the short novel Driftwood. She is the author of the Hugo Award-nominated Victorian adventure series The Memoirs of Lady Trent along with several other series, over seventy short stories, and the New Worlds series of worldbuilding guides; as half of M.A. Carrick, she has written the epic Rook and Rose trilogy, beginning with The Mask of Mirrors.

D G LADEROUTE lives in Ontario, Canada. Besides writing official fiction for the Legend of the Five Rings setting, he has been an extensive contributor to the roleplaying game for both AEG and FFG. His first novel-length work, a young-adult fantasy entitled Out of Time, was short-listed for the Prix Aurora Award.
Praise For…
---
"A fantastic story that manages to be both accessible for readers who know nothing about the setting as well as engaging for long time fans."
— Imperial Advisor: The L5R LCG Show, on Curse of Honor

"Poison River has everything you would hope for from a Rokugan novel… Any time spent reading this is definitely well-spent."
— Fistful of Meeples