Hydroponics: The Complete Guide To Start Creating Your Own Sustainable Hydroponic Garden. You Can Learn How To Grow Fruit, Vegetabl (Paperback)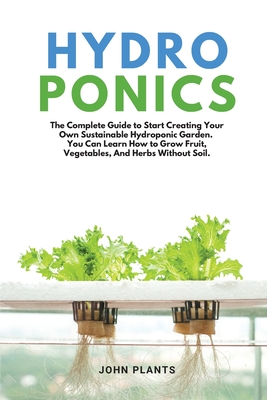 $24.95
Email or call for price
Description
---
Are you interested in growing fruit and vegetables, but don't think you can do it in your urban home?
Do you want to start a hydroponic garden? Do you want to learn how to create a growing system without soil? If yes, then keep reading...
It doesn't matter where you live and the space you have, by following all the instructions you will produce your favourite food all year long.
In the 21st century, when massive farms are growing more and more food to feed our planet, the quality of it is dropping, people eat less and less fresh food and depend their lives on cheaper semi-finished products.
In this book you will learn:
The History of Hydroponics
What Hydroponics Does
How Hydroponics Works
Step by step guide to growing plants hydroponically
The difference between gardening and hydroponics
The temperature of the water solution and oxygen for the roots
The main six types of hydroponic system
How hydroponic systems are built
Tricks to grow plants better
Mistakes growers need to avoid
And much more
This book provides you information on everything you need to know before you get started with your own hydroponic setup. If you follow this guide and put in a little effort, you will be reaping the rewards of hydroponics and even possibly grow most of your fruits, herbs and vegetables.