Hydroponics: The Beginner's Guide to Designing and Building an Affordable Hydroponic System for Growing Fruit and Herbs at Home. a (Hardcover)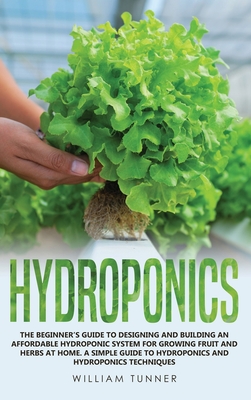 $38.95
Email staff@bookmarksnc.org for price & availability
Description
---
55% OFF to Bookstores Now at $ 38,95 instead of $ 49,95
Your customers will fall in love with this book and can't help but recommend it to all their friends and colleagues.
Have you always loved gardening, but feel you don't have the innate green thumb to grow healthy and productive plants? Would you like to grow your own vegetables, herbs and fruit, but don't have enough backyard space? Have you heard of hydroponic gardens before, but you're not sure where to begin?
If yes, and you want to learn how to set up and install your own amazing hydroponics garden from scratch and grow your own organic, all-natural produce, then read on...
Hydroponics is a great way to cultivate some of your favorite fruits and herbs without soil. Plants that grow in a hydroponic system are healthier and grow faster thanks to dissolved minerals in water. Therefore, it is particularly suitable for those who do not have a large garden, guaranteeing perfect results.
This book allows you to:
Learn what Hydroponics is all about
Comprehend Main Advantages and Disadvantages of Hydroponic System
Get to know the different Types of Hydroponics gardening and how to Choose One Best Suitable for You
Learn about the Materials and Equipment you're going to need to Build Your Own Hydroponic System
Understand everything you need to know about nutrition, nutrients and lighting
Identify the most suitable plants for Hydroponic gardening
Master the entire process: from Starting Seeds and Cuttings, to Plant Nutrition and Fertilizers
Become aware of Maintenance Techniques for healthy and vibrant-looking plants.
Learn how Identify Potential Problems and how to Combat them
Even if you've never done a day of gardening in your life or you have some experience growing plants and you're curious about the Hydroponic gardening, with the information provided in this book, you will be able to create your own system according to your budget, time and available space.
Take the first step to start growing fresh and healthy vegetables.
Buy it NOW and your customers will be grateful to you forever