Hydroponics Gardening: The Ultimate Beginner's Guide to Learn How to Build an Affordable Hydroponic System and Grow Vegetables, Fruit and Her (Paperback)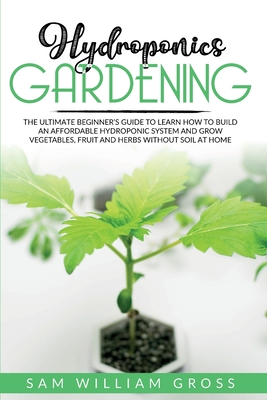 $26.95

Order Processes in 1-5 Days Depending on Store Stock
Description
---
Just for Bookstores 55% off discount Get it at only $ 12.12
Are you looking for a complete guide on hydroponics?
Let your customers enjoy of this amazing guide about Hydroponics Gardening
Hydroponics is a method that preserves water and soil, it is very productive. Hydroponics is an advanced technology but requires only basic skills to start farming. It is important to control the temperature of the air and roots, including factors such as water, light, plant nutrition, and extreme climates.
For this reason, hydroponics systems often have to work in temperature-controlled environments such as greenhouses.
Hydroponics is a form of soilless cultivation in which plants are grown in nutrient solutions, with or without the use of an artificial medium.
This book covers the following topics:
What is hydroponics gardening
Hydroponics vs soil gardening
How it works
Different types of hydroponics systems
How to start your hydroponics garden
Tips and tricks to growing healthy herbs, vegetables and fruits
Possible issues of a hydroponic garden
Best plants for hydroponics
And much more
Hydroponic systems are evolving rapidly today, and yields are rising and reaching heights we had never expected. Hydroponics is possible in places where this is not the case with natural agriculture, including deserts and space stations.
People who live in densely populated places can grow their fresh vegetables in roof gardens or windows using hydroponics. Plants that are grown in hydroponics also grow faster and are relatively free from soil diseases.
Don't miss the opportunity to sell so many copies of this amazing book...Get it NOW