Arabic Writing Alphabet: Workbook Practice For Kindergarteners Pre School Homeschooling: Age 3 to 6 - LEVEL 3 - ARABIC VERSION (Paperback)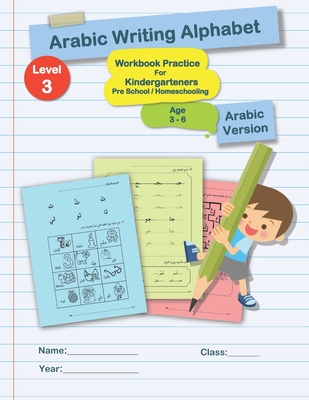 Email staff@bookmarksnc.org for price & availability
Description
---
Arabic Writing Alphabet Workbook - LEVEL 3 - For Kids - (Edition 2020).
*Recommended by teachers and parents (more than 700 clients satisfied).
As a teacher of arabic language, I found this book one of the most complete workbooks, I use it in my classroums.
This is a printed version of the Dr R.Kh Alchae ''Kitab Elhorof'', *** Special thanks to Dr Alchae ***
Advantages of this book
The child is trained to:
✅ Write characters locations in the first, middle and end of the word,
✅ Write characters in long and short lines,
✅ Have the accuracy of observation and the comparison of similar letters (form and sound),
✅ The skill of fitting the syllables into the composition of words,
✅ Understanding images and identifying their names,
✅ Coloring and artistic development.
This is a perfect workbook to start learning to write Arabic. It includes 125 pages of exercises with step-by-step instructions. By tracing the letters, your child or any beginner will quickly memorize letters and be able to write them with punctuations. This book is a perfect choice for teachers and parents who want to teach their child or students basics at home or at classroom.
Recommended for:
✅ Homeschooling,
✅ Preschool,
✅ Kindergarten,
✅ Nursery,
✅ Daycare,
✅ Arabic Schools.
Find also:
Arabic Writing Alphabet Workbook - LEVEL 1.
Arabic Writing Alphabet Workbook - LEVEL 2.