The People Awards (Hardcover)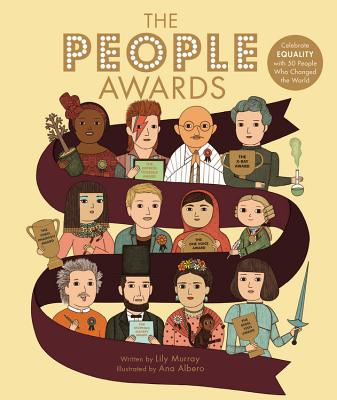 Description
---
Roll up, roll up! The People Awards are about to begin. Who will win the X-ray Award? Who will be named Most Magical Muggle? Who will win the prize for Shaking Up Art? Celebrate equality with 50 famous people from around the world who made history and changed the world for the better. A beautiful book of biographies with stunning art from award-winning artist Ana Albero.

Featuring:
Albert Einstein • Wangari Maathai • Abraham Lincoln • Valentina Tereshkova • Leonardo da Vinci • Marie Curie • Mahatma Gandhi • Trischa Zorn • Pablo Picasso • J. K. Rowling • Vincent Lingiari • Tim Berners-Lee • Ellen DeGeneres • Nelson Mandela • Mary Anning • Alfred Nobel • Frida Kahlo • Louis Pasteur • Gabriel Garcia Marquez • Olaudah Equiano • David Bowie • Anne Frank • Confucius • Cleopatra • Pelé • Ludwig Van Beethoven • Maria Montessori • Tegla Loroupe • Malala Yousefsai • Isaac Newton • Erno Rubik • Sejong the Great • Jan Amos Komenský • Katherine Johnson • Roald Amundsen • Hanae Mori • Eva Peron • Joan of Arc • Donald Bradman • Anna Nzinga • Rosa Parks • Muhammed Ali • Antonia Rodrigues • Simon Bolivar • Rigoberto Menchu Tum • Antoni Gaudí • Wolfgang Amadeus Mozart • Hans Christian Andersen • Sappho
About the Author
---
Ana Albero was born in Alicante, Spain. She studied Visual Communication at the Ecole Nationale Superieure des Arts Decoratifs in Paris, and illustration at the University of the Arts Berlin. She is now based in Berlin, where she works primarily in graphite and colored pencil creating vibrant textured images inspired by old pictures and movies. She is the illustrator of Coco Chanel, and David Bowie—both from the best-selling Little People, BIG DREAMS series—as well as The People Awards.
LILY MURRAY is a freelance writer who has been writing and editing children's books for over 15 years. Her titles for Lincoln Children's Books include Hello, Hot Dog!, Once Upon a Picture and The People Awards. Other recent titles include Dinosaurium for Big Picture Press and World of Cities for Walker Books. She studied English Literature at university and now lives in a cottage on the edge of some woods with two children, a heroic dog and a strange assortment of other animals. She enjoys walking, reading and trips to London on the slightest excuse.