Inventing the Future (revised and updated edition): Postcapitalism and a World Without Work (Paperback)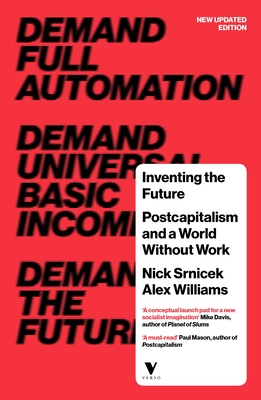 Staff Reviews
---
Imagine a world fully automated, in which work for wages has been replaced by work for love and understanding; a world in which no one wants for food, shelter, medical care, or even Internet access; a world where opportunity is truly equal, undefined by race, gender, or any other such markers. Sound radical? Maybe so, but isn't it worth a try? I think so. Srnicek and Williams think so. Maybe this book will make you think differently about economy, government, employment, and the politics of necessity, too.
— Kari
Description
---
A major new manifesto for the end of capitalism

Neoliberalism isn't working. Austerity is forcing millions into poverty and many more into precarious work, while the left remains trapped in stagnant political practices that offer no respite.

Inventing the Future is a bold new manifesto for life after capitalism. Against the confused understanding of our high-tech world by both the right and the left, this book claims that the emancipatory and future-oriented possibilities of our society can be reclaimed. Instead of running from a complex future, Nick Srnicek and Alex Williams demand a postcapitalist economy capable of advancing standards, liberating humanity from work and developing technologies that expand our freedoms.

This new edition includes a new chapter where they respond to their various critics.
About the Author
---
Nick Srnicek is a lecturer at City University. He is the author of Platform Capitalism and the forthcoming After Work: What's Left and Who Cares? (with Helen Hester).

Alex Williams is a lecturer in the sociology department at City, University of London. He is the author of the forthcoming Hegemony Now (with Jeremy Gilbert).
Praise For…
---
"A conceptual launch pad for a new socialist imagination."
—Mike Davis, author of Planet of Slums

"Nick Srnicek and Alex Williams' project dares to propose a different way of thinking and acting. Given the fizzling of the Occupy moment, a radical rethinking of the anarchic approach is badly needed but just not happening. This book could do a lot of work in getting that rethink going."
—Doug Henwood, author of Wall Street

"Inventing the Future may be the shrewdest, sanest pipe dream of a book published since the recession."
—Nathan Heller, New Yorker

"A powerful book: it not only shows us how the postcapitalist world of rapidly improving technology could make us free, but it also shows us how we can organise to get there. This is a must-read."
—Paul Mason, author of Postcapitalism: A Guide to Our Future

"Srnicek and Williams demonstrate how a sustainable economic future is less a question of means than of imagination. The postcapitalist world they envision is utterly attainable, if we can remember that we have been inventing the economy all along."
—Douglas Rushkoff, author of Present Shock: When Everything Happens Now

"Neoliberalism and austerity seem to reign supreme—the idea of a society not run for profit seems impossible. Or does it? The fascinating Inventing the Future by Nick Srnicek and Alex Williams argues for a radical transformation of society."
—Owen Jones, New Statesman books of the year 2015

"I love the way [Srnicek and Williams] talk about a basic income as something really transformative."
—Caroline Lucas, British Member of Parliament

"A future free from work might seem unrealistic, but it is actually the elephant in the room that [David] Cameron et al. would rather you ignored. Nick Srnicek and Alex Williams' fabulous study opened my eyes to the role technology might play in making society possible again."
—Peter Fleming, author of the Mythology of Work, from the Times Higher Education Supplement

"Inventing the Future is unapologetically a manifesto, and a much-overdue clarion call to a seriously disorganized metropolitan left to get its shit together, to start thinking—and arguing—seriously about what is to be done … It is hard to deny the persuasiveness with which the book puts forward the positive contents of a new and vigorous populism; in demanding full automation and universal basic income from the world system, they also demand the return of utopian thinking and serious organization from the left."
—Los Angeles Review of Books

"In Inventing the Future, Nick Srnicek and Alex Williams take on the two key questions of the left, if I can characterise them broadly: why are we so bad at saying stuff, and do we have anything to say? Their diagnoses of the shortcomings of what they call 'folk politics,' are perceptive, clear, brutal, but respectful. Their prescription for the future can seem vertiginously sudden—you'll need to either get on board with a basic citizen's income, or form a better refutation than 'it sounds expensive,' and fast. But critically, they identify our urgent task: to own modernity."
—Zoe Williams, Guardian

"Inventing the Future is exactly what we need right now. With immense patience and care, it sets out a clear and compelling vision of a postcapitalist society. Equally importantly, it lays out a plausible programme which can take us from 24/7 capitalist immiseration to a world free of work."
—Mark Fisher, author of Capitalist Realism: Is There No Alternative?

"Most important book of 2015.″
—Aaron Bastani, co-founder of Novara Media

"Inventing the Future offers an ambitious, thoughtfully creative and meticulously researched blueprint for a new strategy toward building a mass global movement to counter the hegemony of neoliberal capitalism … Srnicek and Williams offer a profoundly thoughtful, meticulously analyzed contribution to this body of work. Most importantly, they offer a glimmer of hope that the future is something that might still be invented by us, not imposed from above."
—PopMatters

"Accessible and original."
—Nicholas Korody, Archinect

"As well as books such as Guy Standing's The Precariat: The New Dangerous Class and Paul Mason's Postcapitalism, one recent text is talked about more than most among people interested in UBI. Inventing the Future was published last year and has already created significant buzz in leftwing circles,"
—John Harris, Guardian

"They argue that, in the future, the workplace won't exist in anything like the form we have now, and in any case it will have very few permanent workers. Assuming this position, they ask: What would be the social vision appropriate to a jobless future?"
—n+1

"This is a book I've been waiting for … The purpose of neo-liberalism is to cancel the future, where tomorrow looks exactly like today only with more stuff and more debt. To hell with that! Our lives are too short and too precious to exist in this Matrix. Please read the book, tell others to read it and let's invent our future."
—Neal Lawson, Compass

"In 2015, [Srnicek and Williams] expanded the manifesto into a more concrete book, Inventing the Future … The book attracted more attention than a speculative left-wing work had for years."
—Andy Beckett, Guardian

"Srnicek and Williams have courageously drafted a call to re-imagine left politics from top to bottom."
—Fred Turner, Public Books