Roaming (Paperback)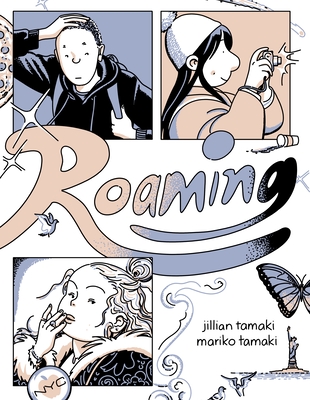 Description
---
Spring Break, 2009: Five days, three friends, and one big city.

Roaming marks a triumphant return to the graphic novel and a deft foray into new adult fiction for Caldecott Medal authors Jillian Tamaki and Mariko Tamaki.

Over the course of a much-anticipated trip to New York, an unexpected fling blossoms between casual acquaintances and throws a long-term friendship off-balance. Emotional tensions vibrate wildly against the resplendently illustrated backdrop of the city, capturing a spontaneous queer romance in all of its fledgling glory. Slick attention to the details of a bustling, intimidating metropolis are softened with a palette of muted pastels, as though seen through the eyes of first-time travelers. The awe, wonder, and occasional stumble along the way come to life with stunning accuracy.

Roaming is the third collaboration from the critically acclaimed team behind Skim and Governor General's Literary Award winner This One Summer. Moody, atmospheric, and teeming with life, the magic of this comics duo leaks through the pages with lush and exquisite pen work. The Tamakis' singular, elegant vision of an urban paradise slowly revealing its imperfections to the tune of its visitors' rhythms is a masterpiece—a future classic for generations to come.
About the Author
---
Jillian Tamaki is a cartoonist, illustrator, and educator raised in Calgary, Alberta. She is the author of the Eisner Award winners SuperMutant Magic Academy and Boundless, and the author-illustrator of two picture books, including most recently Our Little Kitchen. With her cousin Mariko Tamaki, she is the cocreator of the young adult graphic novels Skim and This One Summer, which won a Governor General's Award and Caldecott Honor. She lives in Toronto, Ontario.

Mariko Tamaki is a Canadian writer living in California. She is the cocreator of the graphic novels Skim and This One Summer with Jillian Tamaki, and Laura Dean Keeps Breaking Up with Me with Rosemary Valero-O'Connell. She writes superhero comics for DC Comics, Darkhorse and Marvel. Mariko was the recipient of the Eisner Award for Best Writer in 2020. Collectively, her works have received Printz Honors and Eisner, Ignatz, Ringo, and Prism Awards. She is the curator of the Abrams LGBTQ imprint, Surely Books.
Praise For…
---
"Roaming is gloriously rendered… A love letter to New York, but also an ode to traveling as friends when you're both young and carefree and every new experience is exciting and wondrous."—Robert Ito, The New York Times Book Review

"A big book full of small, meaningful moments."—Michelle Hart, Electric Literature


"Roaming is about two Canadian kids on spring break to New York… It turns out to be surprisingly emotional even though it's a very simple story. I'll admit: I shed a tear."—Alicia Desantis, New York Times Staff Picks

"A moving look at the peculiar, if inevitable, challenges of young adulthood… What the Tamakis are saying—or, more accurately, showing—is that we continue to contain our former selves even as we grow out of them."—David Ulin, Alta Journal

"Read and experience the thrill of a crush, the pain of being a third wheel, the joy of being inside the M&M's store."—The Walrus, Best Books of Fall 2023


"A shrewd and wistful coming-of-age story that may be their best work yet."—Publishers Weekly, Starred Review

"The Tamakis' keen understanding of how friendships shift and change is at the heart of many of their books together, but it's at its heartachingly vivid best here. Absolutely superb."—ALA Booklist, Starred Review


"How exhilarating it is to be young, to be in love, to explore new places and aspects of yourself, and to experience each emotion, good or bad, so very intensely."—Library Journal, Starred Review

"With a modern, queer sensibility, the Tamakis skillfully portray the intensity of fleeting relationships and the whirlwind feeling of exploring a new city."—Shelf Awareness

"Roaming perfectly captures so much of what it feels like to be both fully grown and still becoming who you are. The utterly brilliant Tamakis show the highs and lows of friendship and love and what it means to explore. A beautiful book for any 19 year old, yes, but also for anyone who was once 19." —Emma Straub, This Time Tomorrow

"I've never been a young Canadian tourist visiting New York for the first time in 2009, but Roaming made me feel like one. It's a beautiful, immersive slice-of-life, and Jillian Tamaki's artwork has never been more observant, inventive, and breathtakingly alive." —Adrian Tomine, Shortcomings and The Loneliness of the Long-Distance Cartoonist

"Roaming made me wanna be 17 all over again. Mobbing the streets of NYC with my angsty, goofy, dare-devil friends skateboarding at the cube on Astor place and riding the Cyclone at Coney Island, screaming at the top of our lungs, feeling like nothing could ever stop us. The Tamakis give us NYC youth magic on a platter scuffed with glitter, make out sessions and tourist stops at Times Square. It's a love letter to the greatest city in the world and all the beautiful tender queer kids running wild and free." —Gabby Rivera, Juliet Takes A Breath

"Tender, honest, and gorgeously illustrated, Roaming charters a course through the choppy waters of a queer fling with aplomb. Following a trio of friends from Canada on a short trip to New York City, Roaming doesn't shy away from the splendid messiness of a sudden, passionate connection between two strangers." —JP Brammer, ¡Hola Papi!

"Roaming perfectly captures that weird second adolescence between high school and adulthood: the thrill and torture of new experiences, the growing pains of old friendships, the feelings that are ultimately both silly and life-altering. It might evoke embarrassing memories of cringey arguments or dramatic flings, but then it takes those formative moments seriously. This book loves its characters, and you will, too."—Tavi Gevinson