When Franny Stands Up: A Novel (Paperback)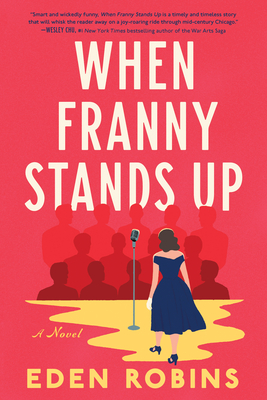 Description
---
Named a Best Book of the Month by Bustle and Buzzfeed!
Named one of the best books of 2022 by Chicago Reader and All About Romance!
As praised by Book Riot, Autostraddle, Library Journal, Publishers Weekly, Booklist, and more!
The Marvelous Mrs. Maisel meets A League of Their Own in this inspiring story Buzzfeed calls "a warm hug of a novel."
Franny Steinberg knows there's powerful magic in laughter. She's witnessed it. With the men of Chicago off fighting WWII on distant shores, Franny has watched the women of the city taking charge of the war effort. But amidst the war bond sales and factory shifts, something surprising has emerged, something Franny could never have expected. A new marvel that has women flocking to comedy clubs across the nation: the Showstopper.
When Franny steps into Chicago's Blue Moon comedy club, she realizes the power of a Showstopper—that specific magic sparked when an audience laughs so hard, they are momentarily transformed. And while each comedian's Showstopper is different, they all have one thing in common: they only work on women.
After a traumatic flashback propels her onstage in a torn bridesmaid dress, Franny discovers her own Showstopper is something new. And suddenly she has the power to change everything…for herself, for her audience, and for the people who may need it most.
About the Author
---
Eden Robins loves novels best, but they take forever so she also writes short stories and self-absorbed essays. She co-hosts a science podcast called No Such Thing As Boring with an actual scientist, and produces a monthly live lit show in Chicago called Tuesday Funk. Previously, she sold sex toys, wrote jokes for Big Pharma, and once did a stand-up comedy set to an audience who didn't boo. She lives in Chicago, has been to the bottom of the ocean, and will never go to space. This is her first novel. Find out more scintillating tidbits at monkeythumbs.com and on Twitter @edenrobins.
Praise For…
---
One of Chicago Reader's top ten Chicago books of 2022!
One of All About Romance's top books of 2022!
"Robins overlays her convincing illustration of mid-century social repression of women with a stirring portrayal of Franny, who succeeds because of her willingness to speak frankly about taboo subjects...Readers will fall in love with this one." —
Publishers Weekly
"Robins's debut is a sharply funny, heartwarming story with strong female characters, exploring religious, racial, and gender identity. " —
Booklist
"With complex, relatable characters, this novel is so much more than one particular genre…a useful addition to any library's LGBTQ collection." —
Library Journal
"Smart and wickedly funny,
When Franny Stands Up
is a timely and timeless story that will whisk the reader away on a joy roaring ride through Mid-century Chicago. Franny is walking sass in heels who spits hard truths during an age when women were expected to stay silent. Robins's debut novel deserves a standing ovation!" —
Wesley Chu, #1 New York Times bestselling author of The War Arts Saga
"A powerhouse of a novel…This is a book about comedy and trauma and family. It is funny and heartbreaking on every other page…Eden Robins is a helluva powerful writer. This book is a Showstopper." —
Mary Robinette Kowal, Nebula and Hugo Award-winning author
"
When Franny Stands Up
is a goddamn delight, a can't-put-it-down page-turner about a girl who has the audacity to tell the truth about her own life at a time in our history when it wasn't acceptable, or appropriate, or even safe to do so. But she does it. Against all odds - class, race, faith, gender, and family - she gets on a microphone and stands the hell up. We should all be so brave." —
Megan Stielstra, author of The Wrong Way to Save Your Life
"This novel is freaking magic in every way, and it pulls off just about every kind of magic trick you can imagine: it's all about the magic of stand-up and the magic of mid-20th-century Chicago and the magic of friendship and community and family. It's also about magic magic. I adore Franny and am so happy I got to follow her extraordinary adventures and misadventures, and I'm sure you will too." —
Juan Martinez, author of Best Worst American
"A debut novel that's fresh and contemporary while feeling like an old favorite. An instant classic. Funny, unsentimental, brave and silly without being unserious. What a book!" —
Cory Doctorow, author of Walkaway and Radicalized
"
When Franny Stands Up
is a riot of a book. Its characters burst with life and wit, even as they bristle against the hard edges of their world. Wielding humor and unabashed heart to steer us through a tale of what it means to find real family, and what it means to heal, Robins navigates by every true comic's North Star: comedy comes from pain. She is a gifted storyteller." —
Rob Ziegler, author of Seed
"A brilliant book on so many levels. Smart, funny, painful, compelling. Highly recommended." —
award-winning author C.C. Finlay