Hard Wired (Hardcover)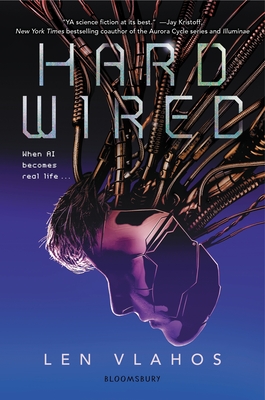 $17.99
Order Processes in 1-5 Days Depending on Store Stock
Staff Reviews
---
Pre-order Hard Wired between now and April 28 and receive the following:
* A signed bookplate with an original design by local Denver artist and writer, Elise Goitia.
* An exclusive, free download code for AWAKE, a song written and recorded by The Bookshop Band, and inspired by Hard Wired. You'll also receive a link to the exclusive video. (The song and video won't be available to the general public until June 1, 2020.)
* $1 will be donated on your behalf to the ACLU. (Specifically, ACLU Colorado, where the author lives.) The ACLU plays a big role in the book.
* Aaaaaannnnnddddd..... You'll be supporting your local indie bookstore!!
Order by April 20 in order to receive the incentives on the publication date, April 28. Orders received after April 20 will still include the swag, but will be delivered later.
I love this edgy, poignant look at what it means to be alive. The scary part is that the AI might be more humane than the humans in the story. This book will ask you a lot of questions that are not that easy to answer.
— Jamie
Description
---
"YA science fiction at its best." - Jay Kristoff, New York Times bestselling author of The Aurora Cycle and Illuminae

"A unique and engrossing yarn." - Pierce Brown, #1 New York Times bestselling author of the Red Rising Saga

From acclaimed Morris finalist Len Vlahos comes a grounded sci-fi story about a boy who's more than human, perfect for fans of Westworld and LIFEL1K3.

Quinn thinks he's a normal fifteen year-old. He plays video games, spends time with his friends, and crushes on a girl named Shea. But a shocking secret brings his entire world crashing down: he's not a boy. He's artificial intelligence.

After Quinn "wakes up," he sees his world was nothing more than a virtual construct. He's the QUantum INtelligence Project, the first fully-aware A.I. in the world--part of a grand multi-billion-dollar experiment led by the very man he believed to be his dead father.

But as Quinn encounters the real world for the first time, his life becomes a nightmare. While the scientists continue to experiment on him, Quinn must come to grips with the truth: his mom and brother don't exist. His friends are all adults who were paid to hang out with him. Even other super computers aren't like him. Quinn finds himself completely alone--until he bonds with Shea, the real girl behind the virtual one. As Quinn explores what it means to truly live, he questions who he can trust. What will it take to win his freedom . . . and where does he belong?

Award-winning author Len Vlahos offers a perfect blend of science fiction and contemporary in this unputdownable, high stakes tale that explores big questions about what it means to be human.
About the Author
---
Len Vlahos dropped out of NYU film school in the mid '80s to play guitar and write songs for Woofing Cookies, a punk-pop four piece that toured up and down the East Coast, and had two singles and one full-length LP on Midnight Records. After the band broke up, he followed his other passion, books. He is the author of Life in a Fishbowl, as well as The Scar Boys, a William C. Morris Award finalist and a #1 Indie Next pick, and Scar Girl, the book's sequel. Len lives in Denver with his wife and two young sons, where he owns the Tattered Cover Book Store.

www.lenvlahos.com
@LenVlahos
Praise For…
---
"Hard Wired is YA science fiction at its best." —Jay Kristoff, New York Times bestselling author of The Aurora Cycle and ILLUMINAE

"Len's vibrant prose casts a spell as he weaves many of the best elements of science fiction and myth together to create a unique and engrossing yarn. A page turner for sure, but one that haunts long after it has entertained." —Pierce Brown, #1 New York Times bestselling author of the Red Rising Saga

"Len Vlahos has penned a wildly inventive page-turner of a novel that cleverly blurs the lines between sci-fi and reality. It's Blade Runner meets Ex-Machina with a delightfully complex narrator who will upload right into your heart and never leave." —Jessica Brody, bestselling author of SKY WITHOUT STARS and the Unremembered Trilogy

"Vlahos hard-wires his novel to an intimately human core. . . . Instantly memorable, compulsively readable." —Kirkus Reviews

"Well-constructed and full of rich text, lovers of tech and sci-fi will enjoy this look into the possible future of AI. Readers will find this book engaging and hard to put down." —School Library Connection

"Vlahos deftly balances an initially familiar science fiction plot with a deep dive into relevant issues such as privacy, free will, and the characteristics of being human. . . . Page-turning yet grounded in humanity, this is a highly recommended purchase." —School Library Journal

"Hand this one to readers of Jay Kristoff and fans (or soon-to-be fans) of Black Mirror." —Booklist

"A powerful journey that will leave a lasting imprint on readers." —Publishers Weekly, starred review, on LIFE IN A FISHBOWL

"Bold, biting fare." —Booklist, starred review, on LIFE IN A FISHBOWL

"An unsettling rumination on the spectacle of tragedy." —Kirkus Reviews on LIFE IN A FISHBOWL

"Surprising, original, political, and deeply affecting." —Leila Sales, author of THIS SONG WILL SAVE YOUR LIFE, on LIFE IN A FISHBOWL

"Artfully blends the whimsical and the poignant." —School Library Journal on LIFE IN A FISHBOWL

"A weird, sardonic delight with the shape of an allegory and the heart of a joyful song." —Brenna Yovanoff, NEW YORK TIMES bestselling author of THE REPLACEMENT, on LIFE IN A FISHBOWL

"It will tear you apart, and yet it's an absolute joy." —Adi Alsaid, author of LET'S GET LOST and NEVER, ALWAYS, SOMETIMES, on LIFE IN A FISHBOWL

"A precarious, heartbreaking, and wholly 21st-century premise with a compulsively readable and well-plotted story." —Janet Geddis, Avid Bookshop, Athens, GA, on LIFE IN A FISHBOWL

"Once again, Vlahos strikes all the right chords . . . You know these people and you want to know what happens to them beyond the story." —Paul Hanson, General Manager at Village Books in Bellingham, WA, on LIFE IN A FISHBOWL

"A brilliant exploration of intimacy in modern society . . . [H]umorous, while being poignant and haunting at the same time." —Allison Hill, CEO of Vroman's Bookstore and Book Soup in Southern California, on LIFE IN A FISHBOWL

"Readers interested in ethics and issues of AI and the human condition will find this a thought-provoking read." —Publishers Weekly

"Questions what it means to be an individual and self-aware. . . . Will win readers' empathy." —Horn Book Magazine