Cryptograms: Large Print Cryptograms Puzzle Book For Adult ADULT ACTIVITY BOOK (Large Print / Paperback)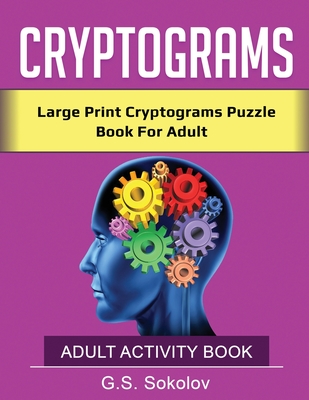 Email staff@bookmarksnc.org for price & availability
Description
---
You Are About To Find Unique And Inspiring Cryptograms That Will Exercise Your Brain And Enhance Your Problem Solving Skills Like Nothing Else Can
Experts agree that puzzles, especially challenging ones, provide a perfect exercise for the brain, something that slows down cognitive impairment (irrespective of your age) as well as such health conditions as Alzheimer's and dementia And of the different puzzles in existence, cryptograms sit at the very top of the most effective puzzles in bringing about these results.
Forget the soul-sucking repetitive nature of Sudoku, word searches, and crosswords; cryptograms offer a new kind of exhilarating experience that's on a whole new level.
This an old technique of encoding messages is increasingly becoming popular as a mental workout. Just think of how exciting it would be to send a loved one an encoded message to tell them you love them, to motivate/inspire them, pass a message and tell them just about anything you want to pass across without having to use just old boring text
The reason you are reading this is because you are interested in cryptograms and want to give your brain the much needed workout.
In it, you will find:
Proofread and professionally formatted puzzles to ensure you don't want to pull your hair because of typos, grammar mistakes, code repetitions and hint errors
Text is in large print to ensure you don't have to struggle to see what's written so that you can spend your hours actually trying to break the codes as opposed to looking for magnifying glasses to see what's written
Lots of working space on a high quality paper so that you can erase as often as you want and use whatever you want to crack the codes (pencils, pens, or highlighters are okay)
Varying levels of difficulty to ensure the book is ideal for everyone; it includes simple, medium and difficult puzzles Of course, there are no dull or impossible solutions- the stuff in here is for ordinary people that want to challenge themselves
Child and adult-friendly; there is no vulgar language, nasty phrases or swear words so you can be sure this is a great book for the whole family
And much more
Breaking each code will not only excite you because of solving the puzzle, you will also get inspiring messages that will lighten up your days
If you are tired of buying cryptogram books that are badly formatted, filled with typos and grammar mistakes, are printed in small print on a poor quality paper and have boring and repetitive puzzles, make this your book.
It is a perfect gift for anyone who loves cryptogram puzzles; you won't find anything better than this one
Are you excited to get a copy of the book?
Scroll up then click Buy Now button to have a copy of this life-changing book