The Problem with Prophecies (The Celia Cleary Series #1) (Paperback)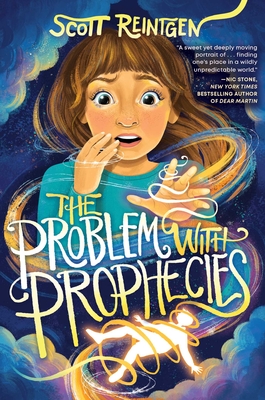 Other Books in Series
This is book number 1 in the The Celia Cleary Series series.
Description
---
"A sweet yet deeply moving portrait of the highs and lows involved in finding one's place in a wildly unpredictable world." —Nic Stone, New York Times bestselling author of Dear Martin

A young seer's first prophetic vision upends her life and sets her off on a desperate quest to change fate in this contemporary fantasy middle grade novel with "heart, humor, and a plot that keeps those pages flying" (Carlos Hernandez, award-winning author of the Sal and Gabi series).

Most people inherit eye colors or heirlooms, but for Celia Cleary, the gift of prophecy has been passed down in her family for generations. And on the 4,444th day of her life, Celia will have her first vision. But nothing could have prepared her for what she sees—the quiet boy down the street, Jeffrey Johnson, is about to die.

Determined to save him despite her grandmother's warnings against it, Celia alters events to stop her vision from playing out. But for each prophecy she avoids, another one takes its place, putting Jeffrey in constant danger. Fate has made its choice, and it's not giving up the hunt.

Focusing on homework or friends isn't easy when you're going head-to-head with death—and keeping Jeffrey Johnson alive is throwing Celia's seventh grade year into chaos. It doesn't help that she's getting to know Jeffrey more and more with each new rescue attempt. It really doesn't help when she realizes she kind of likes him.

Will Celia's gifts be enough to thwart fate? Or are some things in life inevitable?
About the Author
---
Scott Reintgen is a former public school teacher from North Carolina. When he's not writing, he uses his imagination to entertain his wife, Katie, and their three children. Scott is the New York Times bestselling author of the Waxways series, the Nyxia trilogy, and the Celia Cleary series for younger readers. You can find him on Instagram @Reintgen, on X (previously known as Twitter) @Scott_Thought, or on his website at ItsPronouncedRankin.com.
Praise For…
---
"I've never read a book that so deftly combines an exploration of Tough Stuff—like the finality of death—with stepping into an understanding of one's own agency. Reintgen has painted a sweet, yet deeply moving portrait of the highs and lows involved in finding one's place in a wildly unpredictable world."
— Nic Stone

"The Problem with Prophecies has it all: a great protagonist; a magical system to ignite the imagination; heart, humor, and a plot that keeps those pages flying. This book is the best reminder imaginable of why we all should read more."


— Carlos Hernandez

"A very promising kickoff"
— Kirkus Reviews