The History of Constitution: A History Book for New Readers (The History Of: A Biography Series for New Readers) (Paperback)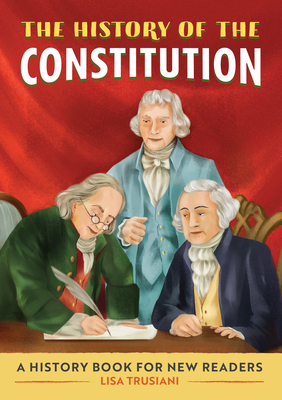 $7.99

Available to order; typically arrives at Bookmarks in 5-10 days
Description
---
Discover the history of the Constitution—an introduction for kids ages 6 to 9
On September 17, 1787, 39 delegates signed the Constitution of the United States into law. These four pages of rules would define how the United States government worked and serve as the foundation for all the rights that we enjoy today. This colorfully illustrated story takes kids on a journey through the writing of the Constitution, how it was amended with the Bill of Rights, and the ways it still shapes life in the United States.
This exploration of the constitution for kids features:
A visual timeline—Kids will easily understand important details of the Constitution's history with a timeline that covers everything from the writing of the first draft to how it has influenced modern Supreme Court rulings.
Core curriculum—This book teaches kids about the Who, What, Where, When, Why, and How behind the Constitution, then tests their knowledge with a quick quiz after they finish.
Lasting changes—Kids will explore thought-provoking questions that help them better understand how the Constitution protects them and their rights.
Introduce kids to the Constitution with this history book for early readers.
About the Author
---
LISA TRUSIANI loves to research life in the past and often imagines going back in time to meet trailblazers and other fascinating people. Lisa has written award-winning comic book stories for Marvel Entertainment and a syndicated newspaper strip. She is happiest when writing for children and teens.
Praise For…
---
"As a middle school teacher, I am always looking for books that bring history alive for students. Despite the popularity of the musical Hamilton, the United States Constitution can be a rather dry subject for many young people. Trusiani manages to make the topic sing. The Constitution is a living document, indeed!" —Charlotte Agell, middle school teacher and author/illustrator

"This comprehensive, engaging read answers all the questions a young reader may have regarding the Constitution—why, how, when, where, and what does it mean for today. Trusiani writes with the reader in mind, clearly and thoroughly. A great read and a great resource!" —Jennifer Meserve, first grade teacher