Prairie Fever (Paperback)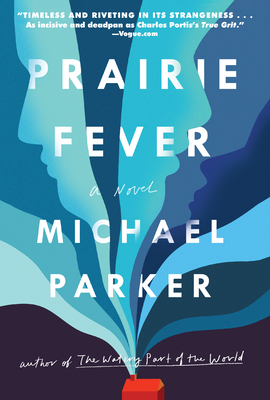 Staff Reviews
---
Not only does this book have a stunning cover, it has made me into a liar when I said "I'm not really a historical fictionr eader." Set in the early 20th century, Prairie Fever is about hardships (mostly the weather) and about distance. There are those literal distances of the untamed land that are reminiscent of Willa Cather, and there are those distances we create within ourselves, mostly from those we love most. My favorite thing about this book, though, is the real, unique voices of the two sisters. Maybe having a sister myself drew me in more, but I really just think it's the skill of Parker's writing."
— Jamie
Description
---
"Michael Parker has captured a time, place, and sisterhood so perfectly it hurts to turn the last page. A riveting, atmospheric dream of a novel." --Dominic Smith, author of The Last Painting of Sara de Vos 

Winner of the 2020 Thomas Wolfe Prize
Longlisted for the Carnegie Medal for Excellence in Fiction

The Stewart sisters, pragmatic Lorena and chimerical Elise, are bound together not only by their isolation on the prairie of early 1900s Oklahoma, but also by their deep emotional reliance on each other. They're all they've got . . . until Gus McQueen arrives in Lone Wolf.

An inexperienced first-time teacher, Gus is challenged by the sisters' wit and ingenuity. Then one impulsive decision and a cataclysmic blizzard trap Elise and her horse on the prairie—and the balance of everything is forever changed.

With honesty, poetic intensity, and the deadpan humor of Paulette Jiles and Charles Portis, this novel tells the story of characters tested as much by life on the prairie as they are by their own churning hearts.
About the Author
---
Michael Parker is the author of seven novels and three collections of stories. For his work, he has been awarded four career-achievement awards: the Hobson Award for Arts and Letters, the North Carolina Award for Literature, the R. Hunt Parker Award, and the 2020 Thomas Wolfe Prize.  His short fiction and nonfiction have appeared in the Washington Post, the New York Times, Oxford American, Runner's World, Men's Journal, and others. He is a three-time winner of the O.Henry Prize for his short fiction and his work has appeared in dozens of magazines and several anthologies.  He taught for twenty-seven years in the MFA Writing Program at the University of North Carolina at Greensboro, and since 2009 he has been on the faculty of the Warren Wilson Program for Writers. He lives in Austin, Texas.
Praise For…
---
"The novel is timeless and riveting in its strangeness . . . Parker's gift for language transcends its 1900s setting, finds its peak expression in the sisters' letters, as incisive and deadpan as Charles Portis' True Grit."
—Vogue

"In the tradition of Katherine Anne Porter, Parker's exceptional tale explores the power and strength of kinship on the harsh American frontier."
—Publishers Weekly

"In Prairie Fever, there is humor as well as danger, love as well as longing, and reconciliation as well as lingering spite. It's splendid reading."
—Lone Star Literary Life

"Full of humor as well as anguish, suggesting that some bonds are strong enough to surpass even the most painful betrayal."
—Manhattan Book Review

"Parker's chimerical slipstream of a novel asks, Is it better to hew to that which is, or to see the world as you wish? Readers will surely be pulled deep into the strange and wild river of Elise's fanciful peregrinations."
—Booklist, starred review

"A frontier tale of sibling rivalry. . . Parker's novel isn't as much about sisterhood as love, as the two struggle to reckon with their estrangement head-on; some of the novel's most powerful sections are Elise's letters to Lorena, addressed not directly to sis but to the horse she rode during the blizzard . . . the easygoing, sometimes-smirking nature of the prose (True Grit comes to mind) makes the novel a pleasant ride."
—Kirkus Reviews

"Michael Parker has captured a time, place, and sisterhood so perfectly it hurts to turn the last page. Prairie Fever is a riveting, atmospheric dream of a novel."
—Dominic Smith, author of The Last Painting of Sara de Vos

"What a terrific book this is, wonderful and strange . . . a whole family acting out what can and can't be forgotten, against the backdrops of prairie and range—characters so magnificently and sometimes comically stubborn I really couldn't put the book down.  And what other novel has a character writing letters to a dead horse?  I was completely taken by this book."
—Joan Silber, author of Improvement

"Let me just say that Prairie Fever—concerning the lives of the Stewart sisters of Lone Wolf, Oklahoma, in the early years of the twentieth century—is the most beautiful novel I have read in quite some time. Taking a cue from the irrepressibly inventive younger sister, Elise, I soon began reading it aloud to someone I love, and the novel more than rewards such a shared experience. The language is that graceful and original, the events and characters (horses included) that spellbinding and funny and moving; and always the melancholy beauty and mysterious power of the open prairie shine through. To borrow a phrase from Mr. McQueen—first encountered as a young teacher in a one-room schoolhouse—one comes away from the novel with a keener sense of 'how one ought to go about living one's life.'"
—Tom Drury, author of Pacific

"Prairie Fever is an exceptionally charming novel about the wonders and troubles of love, land, and language. Witty and poignant, the novel is as elegantly constructed as a poem, and it features the best dialogue this side—or any side—of the Natchez Trace.  Yet another wonderful book from Michael Parker."
—Chris Bachelder, author of The Throwback Special 

"That a love story of this strangeness and rightness can come out of the event of a girl nearly dead in a storm is a testament to the wonder that is Michael Parker's talent. Not least, he's invented a language, a formal way of speaking that is perfectly suited to his people and to this dreamy novel."
—Jane Hamilton, author of The Excellent Lombards

"Michael Parker will infect readers with a fever for his storytelling skills and his beguiling prose."
—Salisbury Post