The Big Book of Silly Jokes for Kids (Paperback)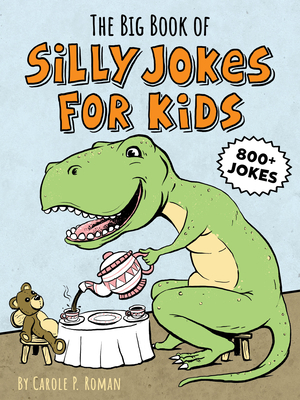 Description
---
Why do fish live in saltwater? Because pepper makes them sneeze! Make your holiday gift a smash hit with 800 silly jokes for kids!

Reading jokes can tickle your funny bones and help you improve your reading skills. The Big Book of Silly Jokes for Kids is chock-full of knock-knock jokes, riddles, tongue twisters, and puns you can share with your friends and family for hours and hours of laughing!

Funny facts and illustrations—Find some very silly illustrations that match the jokes, and fun trivia about the joke topics—did you know that elephants can't jump?

Beginner joke-writing tips—This joke book for kids explains how setups and punchlines works and includes tips and exercises to help you write your own jokes.

Take jokes anywhere—Bring this book on road trips, plane trips, and more so you can have fun everywhere you go.

Give the gift of laughter—This book makes an educational and hilarious gift for friends, siblings, cousins, or anyone who loves to laugh!

Keep laughing, learning, and reading with this joke-filled children's book for ages 6-12.
About the Author
---
CAROLE P. ROMAN is the award-winning author of over 50 children's books. Whether it's pirates, princesses, or discovering the world around us, her books have enchanted educators, parents, and her diverse audience of young readers.
Praise For…
---
"Belly laughs galore from the preeminent children's book author Carole P. Roman! This big book of jokes will tickle AND teach the art of good humor to kids...and adults. Riddles, puns, knock-knocks, and more merge thinking with laughter. A Winner!" — Grady Harp, San Francisco Review of Books

"The Big Book of Silly Jokes for Kids by bestselling author Carole P. Roman is packed full of hilariously funny jokes for kids of all ages! There are even some great jokes in there for parents. If your child enjoys laughing and giggling, then this is one funny book that you can't afford to miss out on!" — Ben Jackson, author of The Day My Fart Followed Me To Hockey and other silly fart books for kids

"Award-winning children's book author, podcaster, and marketing expert, Carole P. Roman has hit a home run with The Big Book of Silly Jokes for Kids. This easy to read, well-researched gem is an excellent investment that will provide hours of entertainment for all ages." — Barbara Ann Mojica, award-winning author of The Little Miss HISTORY book series

"What makes you laugh until you cry and then laugh some more? The Big Book of Silly Jokes for Kids! This book is an incredible collection of hilarious jokes that kids will want to read again and again." — Erica Graham, MS, CCC-SLP and award-winning author of The Flynn Family Saga series

"Leave it to award-winning author Carole P. Roman to compile a super fun selection of crowd-pleasing jokes, while also weaving in a little history and fun facts!" — Bianca Schulze, The Children's Book Review