The Price We Pay: What Broke American Health Care--and How to Fix It (Paperback)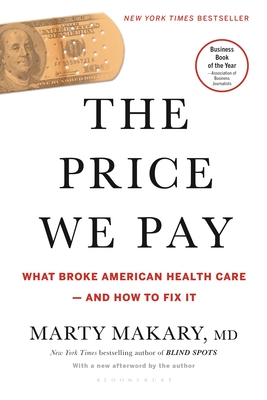 $18.00
Coming Soon - Available for Pre-Order Now
Description
---
Business Book of the Year--Association of Business Journalists

From the New York Times bestselling author comes an eye-opening, urgent look at America's broken health care system--and the people who are saving it--now with a new Afterword by the author.

"A must-read for every American." --Steve Forbes, editor-in-chief, FORBES

One in five Americans now has medical debt in collections and rising health care costs today threaten every small business in America. Dr. Makary, one of the nation's leading health care experts, travels across America and details why health care has become a bubble. Drawing from on-the-ground stories, his research, and his own experience, The Price We Pay paints a vivid picture of the business of medicine and its elusive money games in need of a serious shake-up. Dr. Makary shows how so much of health care spending goes to things that have nothing to do with health and what you can do about it. Dr. Makary challenges the medical establishment to remember medicine's noble heritage of caring for people when they are vulnerable.

The Price We Pay offers a road map for everyday Americans and business leaders to get a better deal on their health care, and profiles the disruptors who are innovating medical care. The movement to restore medicine to its mission, Makary argues, is alive and well--a mission that can rebuild the public trust and save our country from the crushing cost of health care.
About the Author
---
Marty Makary, M.D., M.P.H. is a surgeon at Johns Hopkins Hospital and a professor of Health Policy at the Johns Hopkins School of Public Health. He is a regular medical commentator for CNN and FOX News, and appears weekly on a wide variety of programs to discuss health topics. Most recently he appeared on FOX News Reporting: BEWARE! DANGER AT THE DOCTOR. He is a leading patient-safety researcher and led the World Health Organization effort to develop ways to measure healthcare quality. He tweets @DrMartyMD.
Praise For…
---
"Dr. Makary takes a deep dive into the real issues driving up the price of health care and explains how we can all take action to restore medicine to its noble mission." —Don Berwick MD, senior fellow, Institute for Healthcare Improvement

"[The Price We Pay] is a fascinating look at people and communities throughout America--Dr. Makary blends reportage, research, and personal anecdotes about how money is really spent in healthcare, how we got to where we are today, and who is affected the most. I just started this one, and I already want to tell everyone to read it." —BookRiot, "What to Read for #ScienceSeptember"

"A must-read for every American." —Steve Forbes, editor-in-chief, FORBES magazine

"The Price We Pay is stuffed with examples of predatory billing, confusing costs and statistics that could make you despondent. But there's plenty of honesty, problem-solving and hope to leaven all that despair." —Washington Post

"As Democrats turn on the Affordable Care Act in favor of Medicare for all and Republicans seem split on how to fix the American health care system, surgeon and health policy professor Dr. Marty Makary addresses the system's brokenness and offers a hopeful take on how it can be solved in his upcoming book The Price We Pay." —The Daily Caller

"Brimming with true accounts that put faces on the numbers, The Price We Pay tours the landscape of contemporary American health care, with a generous sprinkling of hopeful counterexamples, or what the author calls "disruptors."" —Hopkins Reader

"Makary's book is a call to action for medical professionals to speak out, businesses to look for better deals, and patients to push back on prices." —The Texas Observer

"[A] groundbreaking new treatise on why the cost of going to the doctor in the United States is spiraling out of control at an accelerating pace. . . . [The Price We Pay is] remarkably enlightening on a number of levels as well as exceptionally infuriating on others . . . We are indeed in dire straits, but it is not hopeless. And I think you will agree if you decide to add this one to your reading list. Highly recommended." —Bowling Green Daily News

"In this thoroughly reported primer Makary authoritatively and conversationally explains the money games of medicine. . . . He found that working Americans feel that the system is stacked against them; it seems that they're right. . . . Consider this book a powerful call to action for more information about health costs and for restoring the 'noble mission' of treating everyone with fairness and dignity." —Booklist, starred review

"I absolutely loved this book. Insightful, sharp, and essential reading--one of the top 5 books I've ever read." —Jay Newton-Small, TIME Magazine contributor and author of BROAD INFLUENCE

"Marty Makary is a great storyteller, making accessible the business of medicine and the new ideas disrupting it without losing the important details. Everyone should read this book, and then demand a more transparent and fair system." —Shantanu Agrawal MD, President and CEO, the National Quality Forum

"A valuable and illuminating read, full of intriguing insights into the use of decision-making in medicine and health care and how to make things work for all." —Cass Sunstein, co-author of NUDGE and Professor, Harvard Law School

"Marty Makary is one of the great thought leaders in medicine and his new book, The Price We Pay, brilliantly lifts the veil on the state of modern medicine and the new ideas that are disrupting it." —Senator William H. Frist, MD

"Over the course of decades, American health care lost the 'care' component and devolved to a big, wasteful business. In his new book, Marty Makary undertakes an extensive listening tour and astutely deconstructs how this occurred and what we need to do about it." —Eric Topol MD, Editor-in-Chief, Medscape; author of THE PATIENT WILL SEE YOU NOW

"Dr. Makary artfully sifts through complex data to shine light on a path for those seeking to build a better health care system." —Aneesh Chopra, former Chief Technology Officer of the United States and President of CareJourney

"Marty Makary does a masterful job of describing the business arrangements of health care and their consequences in The Price We Pay. . . . This book is a must-read for people struggling to find new ways to affect health care costs outside of a divisive political situation, in which governmental action on anything is becoming increasingly difficult. Makary reminds us that simple awareness can lead to innovation and change. This reminder is badly needed in an industry that all too often bankrupts its customers." —Health Affairs

"The Price We Pay vividly portrays inefficiency in the nation's health care system."" —Minneapolis Star Tribune

"Plain talk from a surgeon and professor who has long studied health care issues and finds the American system badly in need of repair. . . . He clearly demonstrates how medical care is secretive and predatory and why skyrocketing costs can be accounted for by the money games of medicine . . . Makary rightly takes the health care business to task, but he also offers a ray of hope that change can and will happen." —Kirkus

"Every once in a while a book comes along that rocks the foundations of an established order that's seriously in need of being shaken. The modern American hospital is that establishment and Unaccountable is that book." —Shannon Brownlee, author of Overtreated, on UNACCOUNTABLE

"[Unaccountable] is an eye-opening look at the culture of medicine. And it's not pretty." —CNN on UNACCOUNTABLE

"A searing insider's look at what really goes on behind the scenes at major hospitals . . . a galvanizing book full of shocking truths about the current state of health care." —Kirkus on UNACCOUNTABLE

"This thought-provoking guide from a leader in the field is a must-read for M.D.s, and an eye-opener for the rest of us." —Publishers Weekly on UNACCOUNTABLE

"Marty Makary offers a searing indictment from the inside." —Wall Street Journal on UNACCOUNTABLE