Black Flags, Blue Waters: The Epic History of America's Most Notorious Pirates (Paperback)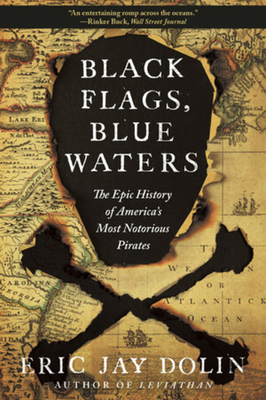 Description
---
With surprising tales of vicious mutineers, imperial riches, and high-seas intrigue, Black Flags, Blue Waters is "rumbustious enough for the adventure-hungry" (Peter Lewis, San Francisco Chronicle).
Set against the backdrop of the Age of Exploration,
Black Flags, Blue Waters
reveals the surprising history of American piracy's "Golden Age" - spanning the late 1600s through the early 1700s - when lawless pirates plied the coastal waters of North America and beyond. "Deftly blending scholarship and drama" (Richard Zacks), best-selling author Eric Jay Dolin illustrates how American colonists at first supported these outrageous pirates in an early display of solidarity against the Crown, and then violently opposed them. Through engrossing episodes of roguish glamour and extreme brutality, Dolin depicts the star pirates of this period, among them the towering Blackbeard, the ill-fated Captain Kidd, and sadistic Edward Low, who delighted in torturing his prey. Upending popular misconceptions and cartoonish stereotypes,
Black Flags, Blue Waters
is a "tour de force history" (Michael Pierce,
Midwestern Rewind
) of the seafaring outlaws whose raids reflect the precarious nature of American colonial life.
About the Author
---
Eric Jay Dolin is the author of fourteen books. His most recent is A Furious Sky: The Five-Hundred-Year History of America's Hurricanes, which received a number of accolades, including being chosen by the Washington Post as one of 50 Notable Works of Nonfiction in 2020, by Kirkus Reviews as one of the Best Nonfiction Books of 2020 (in addition to being a Kirkus Prize finalist), by the Library Journal and Booklist as one of the Best Science & Technology Books of 2020, and by the New York Times Book Review as an "Editor's Choice." Other books include Leviathan: The History of Whaling in America, which was chosen as one of the Best Nonfiction Books of 2007 by the Los Angeles Times and the Boston Globe, and also won the 2007 John Lyman Award for U.S. Maritime History; and Black Flags, Blue Waters: The Epic History of America's Most Notorious Pirates, which was chosen as a "Must-Read" book for 2019 by the Massachusetts Center for the Book, and was a finalist for the 2019 Julia Ward Howe Award given by the Boston Author's Club. A graduate of Brown, Yale, and MIT, where he received his Ph.D. in environmental policy, Dolin lives in Marblehead, Massachusetts, with his family.
Praise For…
---
An entertaining romp across the oceans that shows how piracy is an inseparable element of our past.... Mr. Dolin has a keen eye for detail and the telling episode. Readers will learn fascinating tidbits of language, habits and cultural assimilation.
— Rinker Buck, Wall Street Journal

Black Flags, Blue Waters is rumbustious enough for the adventure-hungry, but it also hews to the facts as they are known about the pirate lives and activities.... Dolin's book is not only a fine entertainment, but it draws the pirate in a clear light.

— Peter Lewis, San Francisco Chronicle

A masterly and vivid account of the pirates who operated around America's coasts in the late 1600s and early 1700s. Using an impressive array of sources, Eric Jay Dolin throws a fresh light on familiar stories, unearths some new and surprising facts, and skillfully sets the exploits of a notorious generation of pirates in their historical context.
— David Cordingly, author of Under the Black Flag

Elegantly written.... Black Flags, Blue Waters is distinctive and an excellent addition to this subdivision of maritime history.

— Louis Arthur Norton, Sea History

Gripping.... Dolin, who has previously written popular narratives about whaling, the fur trade and opium trafficking, finds another can't-miss subject in the adventures of Kidd, Bonnet, Blackbeard and their ilk. Dolin makes it fresh by focusing on the interaction between pirates and the British colonies. His evidence is irrefutable: pirate cash and stolen goods were invaluable to colonial ports.
— Anne Bartlett, BookPage

If you've never read Dolin before, prepare to have a new favorite historian.
— Jeff Guinn, author of The Road to Jonestown

A compelling examination of the economics, geopolitics, and strong?sometimes mad?personalities that fueled the great age of New World piracy. Black Flags, Blue Waters illuminates a fascinating era of maritime history but also the dark actions of desperate men.

— Dean King, author of Skeletons on the Zahara

Eric Jay Dolin has written a tour de force history of this period in American history. Black Flags, Blue Waters brings to life the famous, the not-so-famous, and the infamous of the ranks of American pirates during the... Golden Age [of Piracy].

— Michael Pierce, Midwestern Rewind

As he did with whales and lighthouses, Eric Jay Dolin gives us another sea-meets-shore epic wrapped in a swashbuckling narrative.... A fascinating adventure story filled with rogues, rascals, and ruthless renegades, this is stirring history that reads like a novel.
— Stephen Puleo, author of Dark Tide

In Black Flags, Blue Waters, Eric Jay Dolin presents the surprising and enthralling Age of Pirates that was more bloody than golden. In the process, he proves again that skillfully presented narrative nonfiction is even more gripping than swashbuckling mythology. If you've never read Dolin before, prepare to have a new favorite historian.

— Jeff Guinn, author of The Road to Jonestown