The Book of Humans: A Brief History of Culture, Sex, War, and the Evolution of Us (Paperback)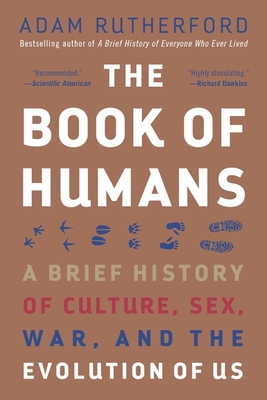 Description
---
"Rutherford describes [The Book of Humans] as being about the paradox of how our evolutionary journey turned 'an otherwise average ape' into one capable of creating complex tools, art, music, science, and engineering. It's an intriguing question, one his book sets against descriptions of the infinitely amusing strategies and antics of a dizzying array of animals."—The New York Times Book Review

Publisher's Note: The Book of Humans was previously published in hardcover as Humanimal.

In this new evolutionary history, geneticist Adam Rutherford explores the profound paradox of the human animal. Looking for answers across the animal kingdom, he finds that many things once considered exclusively human are not: We aren't the only species that "speaks," makes tools, or has sex outside of procreation. Seeing as our genome is 98 percent identical to a chimpanzee's, our DNA doesn't set us far apart, either. How, then, did we develop the most complex culture ever observed? The Book of Humans proves that we are animals indeed—and reveals how we truly are extraordinary.
About the Author
---
Adam Rutherford, PhD, is a science writer and broadcaster. He studied genetics at University College London, and during his PhD on the developing eye, he was part of a team that identified the first known genetic cause of a form of childhood blindness. His previous books are A Brief History of Everyone Who Ever Lived—finalist for the National Book Critics Circle Award in nonfiction—and Creation, which was shortlisted for the Wellcome Book Prize. He writes and presents BBC's flagship weekly Radio 4 program Inside Science; The Cell for BBC Four; and Playing God (on the rise of synthetic biology) for the leading science series Horizon; in addition to writing for the Guardian.
Praise For…
---
An Amazon Best Science Book of 2019

"A smooth, expert, and often startling history that emphasizes that no behavior separates us from other animals, but we remain an utterly unique species."—Kirkus Reviews

"Rutherford's entertaining work offers a refreshing and perspective-altering view of the complex history of life on Earth."—Publishers Weekly

"Rutherford is an engaging, witty writer. He is also a concise one. After several vast but worthy tomes about human nature that have been published recently, that makes this pithy homage to our species all the more welcome. An entertaining and blessedly succinct read."—Guardian

"A kind of intellectual enema, exposing the popular myths about human exceptionalism."—New Scientist

"Looking at the latest evidence from behavioral science, genetics, and paleoanthropology, Rutherford explores the ways that humans do differ from other animals and whether we are indeed as special as we once believed. . . . Recommended."—Scientific American

"I love learning new, surprising facts, the kind that make children say 'Did you know?' Did you know there are Australian hawks who pick up burning sticks and transport them to start a fire, where they then eat roasted animals? . . . Highly stimulating, lots to think about, lots to learn. Very well-written. . . . Thoroughly recommended."—Richard Dawkins

"Fascinating. . . Enlightening. . . Rutherford writes with clarity, authority and humor. His research is thorough and so current that most readers will be wowed."—Bookpage

"Rutherford, a science journalist, draws on findings from molecular biology, anthropology, and linguistics, among other fields, to survey what makes humans simultaneously singular among and similar to other animals. The result is an engaging, entertaining, and highly accessible account. . . . the book as a whole will be enjoyable and thought provoking for readers of diverse interests and expertise."—Choice

"Rutherford . . . . is an amiable guide to this look at the ways in which we are members of the animal kingdom yet unequivocally at the head of the class, creaturewise."—The Toronto Star

"An energetic exploration of the animal kingdom reveals what humans share with other creatures, and what makes us different."—Shelf Awareness

"Engaging, accessible, and highly recommended."—Library Journal

"[Rutherford] writes with intellectual authority and also, as a popular lecturer and broadcaster, expresses himself in a clear and persuasive manner with natural charm."—Spectator

"I loved this book. An outstandingly clear and witty account that shows beyond doubt how much we are part of the animal world, and yet at the same time how different we have become."—Henry Marsh, author of Do No Harm
 
"This delightful and charming book will change the way you see yourself and your place in the natural world."—Ed Yong, author of I Contain Multitudes
 
"Adam Rutherford is a master storyteller. The Book of Humans is packed to the brim with intriguing tales, clever twists, and up-to-the-minute scientific discoveries, offering a completely new perspective on who we are and how we came to be."—Hannah Fry, author of Hello World
 
"Charming, compelling, and packed with information. I learned more about biology from this short book than I did from years of science lessons. Adam Rutherford has a knack for making complex ideas understandable—and also fun. Our species is a lot stranger than I'd ever realized, but a lot more normal, too. A weird and wonderful read."—Peter Frankopan, author of The Silk Roads
 
"I've learned more about myself and my species than I thought possible. A beautiful, compassionate book exploring not just human nature but also the human condition. I'm more in love with Adam Rutherford's writing than ever."—Angela Saini, author of Inferior
 
"If teaching is what makes humans special, then Adam Rutherford is superhuman—the paragon of teachers, a truly gifted transmitter of knowledge: lucid, enlightening, witty, and delightful."—Kate Fox, co-director of the Social Issues Research Centre
 
"Adam Rutherford is a superb communicator who eruditely explores the borderlands of history, archaeology, genetics, and anthropology in this fascinating tour of our species."—Dan Snow, host of the podcast Dan Snow's History Hit

"Adam Rutherford is a delightful, eclectic, hilarious, and often filthy guide to what we know about human genetics. But even more than that, there are parts of this book I wish were graven into the walls of public buildings and above the desk of anyone who writes about science. Next time someone tells you that men 'evolved' to behave in one way while women 'evolved' to behave differently, pull out your copy of The Book of Humans and set them right."—Naomi Alderman, author of The Power