Dinosaurs—The Grand Tour, Second Edition: Everything Worth Knowing About Dinosaurs from Aardonyx to Zuniceratops (Paperback)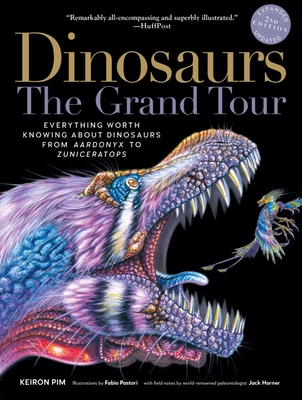 Description
---
Bigger and Better, Updated and Expanded
We live in a golden age of paleontological discovery—on average, we find one new dinosaur species per
week
. The most fascinating among them take their place in this updated edition of
Dinosaurs—The Grand Tour
; from
Aardonyx
, a lumbering beast that formed a link between two- and four-legged dinosaurs, to
Zuniceratops
, who boasted a deadly pair of horns. Here, you'll find everything worth knowing about every dinosaur worth knowing—more than 300 in all, including:
Amphibious Halszkaraptor looks like no other dinosaur we've found—with a head and body the size of a duck's, sharp claws . . . and a swanlike neck.
Longer than a blue whale and three times taller than a giraffe, Patagotitan is a newly discovered contender for "biggest dinosaur ever."
The speedy little feathered predator Stenonychosaurus was an anatomical marvel, with retractable claws, asymmetrical ears for advanced hearing, incredible night vision, and a huge brain.
Oviraptor—whose name means "egg thief "—doesn't deserve its bad rap. This specimen from 1923 is now proven to have been sitting by its own eggs—not stealing another's.
Sinornithosaurus prove that dinosaurs shed their skin the same way that humans do, rather than sloughing it off all at once like a snake.
At-a-glance sidebars put each dinosaur's diet, size, and location at your fingertips. Stories of harrowing expeditions conjure the thrills of history's most famous dinosaur hunters. Highlights from recent research reveal what's new in paleontology today, including scientists' evolving idea of what dinosaurs actually looked like. (Hint: They were more colorful—and feathery!—than we ever thought before.) And illustrations on virtually every page bring these prehistoric creatures to life in all their glory.
About the Author
---
As a small boy, nothing excited Keiron Pim more than a visit to London's renowned Natural History Museum, where he would gaze up at the Diplodocus skeleton and later depart clutching some little memento: an eraser shaped like Stegosaurus, a lurid poster of a Jurassic scene, or a book crammed with dino-facts. It would have blown his mind to know that he'd one day write a book on dinosaurs. Keiron, married with three daughters, is an award-winning nonfiction author, editor, and writing tutor based in Norfolk, England. See more at keironpim.co.uk.

Fabio Pastori first learned the power of visual art in advertising, crafting memorable and persuasive ad campaigns no matter the slogan. In the 1980s, he adapted the hallmarks of his style—dynamic perspectives, extreme three-dimensionality, and vivid colors—to create an entirely new way to represent dinosaurs. His work would prove to be ahead of its time; in light of the latest science, researchers are now confirming the validity of Fabio's early drawings. He remains a highly regarded paleoartist today, known for his sharp eye in depicting cutting-edge discoveries.

John "Jack" Horner is one of the world's foremost paleontologists, credited with finding the first dinosaur eggs in the Western Hemisphere, the first evidence of dinosaur colonial nesting, the first evidence of parental care among dinosaurs, and the first dinosaur embryos. He served as the inspiration for paleontologist Dr. Alan Grant in Michael Crichton's Jurassic Park, and as the technical adviser on all of the Jurassic Park films. Horner is Regents Professor of Paleontology, Emeritus, at Montana State University.
Praise For…
---
A Main Selection of Scientific American Book Club

"This richly illustrated volume presents the latest perspectives on dinosaur lore, feathers and all, with field notes from famed paleontologist Jack Horner."—NBC Science News

"Remarkably all-encompassing and superbly illustrated . . . A fascinating tome that will appeal to children and adults."—Huffington Post

"If there is one book you should give as a gift to any dinosaur fan . . . this is it."—Staten Island Advance

"Dramatic illustrations and silhouettes of the dinosaur accompany each profile . . . A good, inexpensive choice for those who want the most up-to-date, comprehensive information on dinosaurs."—Booklist

"If you've got a kid who's wild about dinosaurs, this is the book you need to get."—GeekDad blog