Big Whiskey: Kentucky Bourbon, Tennessee Whiskey, the Rebirth of Rye, and the Distilleries of America's Premier Spirits Region (Hardcover)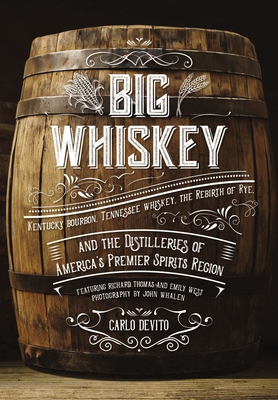 $29.95
Email staff@bookmarksnc.org for price & availability
Description
---
On the trail to America's signature spirit! The definitive field guide to the American Whiskey Trail! Big Whiskey features profiles of distilleries new and old, interviews with distillers and blenders, cocktail recipes, tasting notes, food pairings, and rare bottles.

Discover the storied history and renaissance of America's premier whiskey region with this definitive field guide to its signature spirit. Devoted entirely to the quintessential American whiskeys of Kentucky and Tennessee, Big Whiskey takes you behind the scenes at distilleries throughout both states. This book is bursting with in-depth, up-to-date profiles from esteemed heritage brands to distilleries whose first barrels are still aging. This elegant book includes:
*fascinating interviews with Master Distillers,
*profiles on 80 distilleries and even more labels,
*incredible histories and facts about North America's most influential whiskey region,
*stunning, original photography from the trails.
Whether you're a seasoned connoisseur or are simply looking to discover the difference between bourbon and Tennessee whiskey, Big Whiskey is your essential guide to America's whiskey trails.
About the Author
---
Richard Thomas is the owner and managing editor of The Whiskey Reviewer, a leading web magazine for whiskey reviews and mixology and drinks news. Thomas's opinions and advice on whiskey have appeared on ABC News, Discovery Channel programming, Style magazine and elsewhere. He was a longtime travel contributor to Yahoo!, and he has written for outlets as diverse as Dremel.com, USA Today, Chilled, Inside Hook, and Paste.