The Jekyll Island Chronicles (Book One): A Machine Age War (Paperback)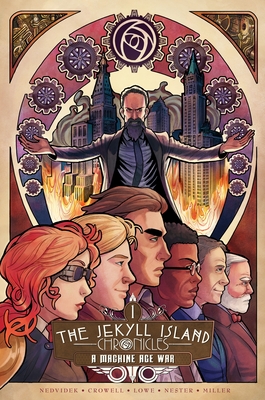 Other Books in Series
This is book number 1 in the Jekyll Island Chronicles series.
Description
---
At the beginning of the 1900s, 1/6th of the world's wealth vacationed in and around the tiny Georgia island of Jekyll. Captains of Industry like Rockefeller, Vanderbilt, Morgan, and Carnegie all called the Jekyll area home. Using this place of grandeur and elegance as a backdrop, an alternate history is explored between the World Wars. A time of great social, political, and technological upheaval. A time of ingenuity and anarchy. A time for some of the most brilliant, and horrible, minds of the 20th century to confront each other. And a time of great new heroes and fantastic new machines.

The Jekyll Island Chronicles: A Machine Age War is the first in a new series of graphic novels. Part historical fact, part clockwork, and part diesel punk, they span an age of furious advancement in machine technology while exploring the span of man's soul – whether evil or good.
About the Author
---
STEVE NEDVIDEK has worked in film, radio, and television and received his Masters Degree in Theater from Wake Forest University, where he completed his thesis in make-up design. He is an avid cartoonist, model maker, writer, and movie watcher, and resides in the Atlanta suburbs with his wife, three kids, and dog.

ED CROWELL holds advanced degrees in political science and international affairs. He is an executive at a non-profit and a writer with dozens of published articles. A lifelong fan of science fiction and fantasy, he and his wife have two children who went off to college, but left Ed and Cynthia with two cats, a fish, and a dog.

JACK LOWE is a student of film making and themed entertainment. A passionate storyteller with a bent toward immersive, multi-sensory experiences, Jack and his wife, three children, two dogs, and two cats live in a 150-year-old farmhouse near Lost Mountain in Georgia.

J. MOSES NESTER is a graduate of the Savannah College of Art and Design and works as a freelance comic artist. His stories have appeared in the Horizon Anthology Vol. 1 and the Game On anthology.
Praise For…
---
"What's most impressive about The Jekyll Island Chronicles is the amount of historical context in the story... Consider this historian impressed... This is an easily understood history where well-known historical figures just happen to enlist the help of a strongman with mechanical legs, a woman who conducts electricity, an ace pilot of a steam-powered warplane, and a Tuskegee cryptologist to combat evil Anarchists under a leader named Zeno." -- Inverse.com

"The alternate history inventions are some of the best work... creating early twentieth century superheroes through marvelous mechanical cyborgs and a mistress of electricity... These are fun enough in themselves, but the comic's richness is in its deep grounding in actual history." -- BlogCritics