The American Women's Almanac: 500 Years of Making History (Paperback)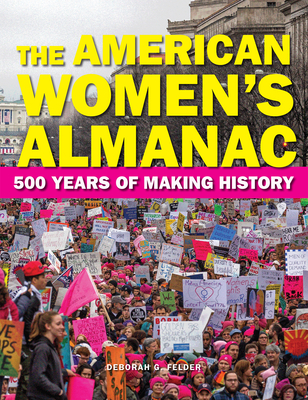 Description
---
Honoring and celebrating achievements from the First Nations women and the French Huguenot Women of Fort Caroline to the unprecedented number of ethnically diverse women running for modern office,
The American Women's Almanac: 500 Years of Vitality, Triumph and Excellence
provides insights on the long-ignored influence, inspiration, and impact of women on U.S. society and culture.
The most complete and affordable single-volume reference on women's history available today, this almanac is a unique and valuable resource devoted to illustrating the moving and often lost history of women in America. It is a fascinating mix of biographies, little-known or misunderstood historical facts, enlightening essays on significant legislation and movements, and numerous photographs and illustrations.
From the first indigenous women in North America and the dangers and hardships of the 15th, 16th, and 17th century journeys to the New World to the continual push against patriarchal political, military, corporate, and societal systems and expectations, this essential book illustrates the important events and figures surrounding the suffrage movement; literature, art, and music; business leaders and breakthroughs; political history and office holders; advances in science and medicine; and other vital topics. Learn about the Nineteenth Amendment; Title IX; the legalization of birth control in 1966; the dramatic increase in women attending colleges and universities in the United States; the limitations of 19th-century women's fashion on athletes; and so much more.
The most illustrious figures, as well as less-known stars, are revealed in The American Women's Almanac, including Louisa May Alcott, Susan B. Anthony, Clara Barton, Mary McCleod Bethune, Nellie Bly, Amelia Earhart, Jessie Benton Fremont, Marguerite Higgins, Grace Hopper, Julia Ward Howe, Harriet Jacobs, Barbara Jordan, Julie Krone, Juliette Gordon Lowe, Dolley Madison, Lynn Nottage, Pocahontas, Jeanette Rankin, Sally Ride, Bernice Sandler, and approximately 350 others.
This important reference also has a helpful bibliography, an extensive index, and 550 photos, adding to its usefulness. Commemorating and honoring the achievements, people, and essential influence of women in American history, The American Women's Almanac brings to light all there is to admire and discover about these incredible women.
About the Author
---
Deborah G. Felder is a graduate of Bard College, where she studied drama and literature. She worked as an editor at Scholastic, Inc., and has been a freelance writer and editor for over 30 years. The author of more than 20 publications, including fiction and nonfiction books, and articles for middle grade, young adult, and adult readers, her books include The 100 Most Influential Women of All Time: A Ranking Past and Present; A Century of Women: The Most Influential Events in Twentieth-Century Women's History; and A Bookshelf of Our Own: Works That Changed Women's Lives. She has also written book reviews for The New York Times Book Review, Kirkus Reviews, and Publishers Weekly. She resides with her husband, Daniel Burt, in South Chatham, Massachusetts.