How Rude!: The Teen Guide to Good Manners, Proper Behavior, and Not Grossing People Out (Paperback)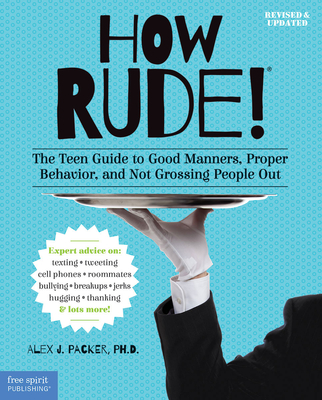 $29.99

Available to order; typically arrives at Bookmarks in 7-10 days
Description
---
Hilarious etiquette and manners guide teaches teens how to use manners to gain respect, feel good about themselves, and enjoy life to the fullest.

Discussing etiquette and manners from common courtesies to cell-phone smarts to classroom decorum, Alex J. Packer blends outrageous humor with sound advice as he explains why etiquette and manners are important—because people who know how to handle themselves in social situations come out on top, get what they want, feel good about themselves, and enjoy life to the fullest.
 
Full of practical tips for every occasion, How Rude! is a serious etiquette and manners encyclopedia—and a hilarious read. This revised and updated edition describes the basics of polite behavior in all kinds of situations at home, in school, online, and in the world.

​For more must-have advice from Alex J. Packer, Ph.D., check out Slaying Digital Dragons: Tips and tools for protecting your body, brain, psyche, and thumbs from the digital dark side.
About the Author
---
Alex J. Packer, Ph.D., is an educator, psychologist, and award-winning author of numerous books for parents and teenagers including How Rude! The Teen Guide to Good Manners, Proper Behavior, and Not Grossing People Out. Alex is sought after by the media for his provocative commentary on manners, child-rearing, and substance abuse prevention, and has led workshops and lectured widely across the United States and around the world. He received his Ph.D. in educational and developmental psychology from Boston College and his master's degree in education from Harvard.
Praise For…
---
"It is difficult to make a topic like etiquette seem relevant and appealing to teenagers, but that is exactly what Packer accomplishes. Drawing heavily on surveys of teens, parents, and teachers to target which situations were most pertinent, the opening chapters successfully sell the importance of manners to both the individual and society . . . This is advice on issues that teens care about."
— Booklist

The first edition of this etiquette guide for teens, published in 1997, is now itself a teenager. This updated edition tackles social media, Google, and the ubiquity of cell phones, travel post 9/11, cyberbullying, and online gaming—but the heart of the book remains the same. Packer explains what good manners are and why they are important, covering hundreds of situations and offering brief, lighthearted advice on how to maneuver them with proper behavior. From introductions to thank-you notes to asking someone to a movie (or the opera) to food shopping to email to hygiene, Packer has sensible if strict advice on how to behave. His style is reminiscent of a smart, slightly silly uncle giving guidance with good cheer. There are many lists, bullet points, and charts. Most topics are covered in a pithy page or two, with small cartoons scattered throughout. Packer conducted three online surveys to gather information from teens, parents, and teachers, and some pages of survey results are presented in appropriate chapters. Packer also tells "True Stories from the Manners Frontier"; these tales of bad manners are enclosed in sidebars at least once per chapter. This is a fun guide that teens may dip into when facing a confounding situation, and Packer's good nature and good sense make it a useful book for most collections, including those that already own the original version.
— School Library Journal

"The most incredibly readable, enjoyable, laughable, enlightening, and insightful book."
— Voice of Youth Advocates

"Surprisingly simple ways for teens to respond to and interact with people to get the best results."
— YouthWorker Journal