Hollow Kingdom (Hardcover)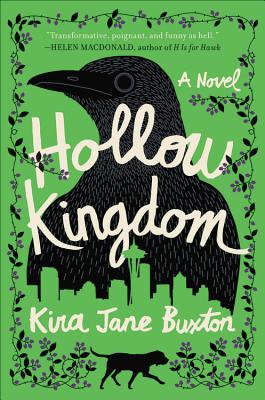 Staff Reviews
---
I don't typically like books narrated by animals, but the voice of S.T. really caught me by surprise. This is not your average zombie novel. And, in fact, I don't think any of the marketing groups this book into the SFF category. It is part story of friendship and loyalty mixed with an environmental warning and plea. I can definitely say that I have never read a book quite like it.
— Jamie
If you have ever been curious as to what animals do during a fictional global crisis, this is absolutely the book for you. Kira Jane Buxton's "Hollow Kingdom" is the story of companionship between S.T. the crow and Dennis the sweet simple dog, following their tale as they encounter other animals and try to find out what has happened to their humans and the rest of the natural world that they thought they understood. "Homeward Bound" meets "Dawn of the Dead" in this incredibly clever and original novel.
— Lany
August 2019 Indie Next List
---
"We need more heroes like S.T. — a foul-mouthed, idealistic, moral crow with unquenchable courage — and his sidekick, a befuddled bloodhound. Kira Jane Buxton speaks crow, gull, dog, housecat, and owl with such fluency and poetry that I could not put this book down. Her vision of the zombie apocalypse is a strange and wonderful journey I want to take again and again. I really can't think of another current novel that conveys such humor, joy, sorrow, and hope so beautifully. Thank you for restoring my faith that this world may live on."
— Dena Kurt, River Lights Bookstore, Dubuque, IA
Description
---
One pet crow fights to save humanity from an apocalypse in this uniquely hilarious debut from a genre-bending literary author.
S.T., a domesticated crow, is a bird of simple pleasures: hanging out with his owner Big Jim, trading insults with Seattle's wild crows (those idiots), and enjoying the finest food humankind has to offer: Cheetos ®.

Then Big Jim's eyeball falls out of his head, and S.T. starts to feel like something isn't quite right. His most tried-and-true remedies--from beak-delivered beer to the slobbering affection of Big Jim's loyal but dim-witted dog, Dennis--fail to cure Big Jim's debilitating malady. S.T. is left with no choice but to abandon his old life and venture out into a wild and frightening new world with his trusty steed Dennis, where he discovers that the neighbors are devouring each other and the local wildlife is abuzz with rumors of dangerous new predators roaming Seattle. Humanity's extinction has seemingly arrived, and the only one determined to save it is a foul-mouthed crow whose knowledge of the world around him comes from his TV-watching education.

Hollow Kingdom is a humorous, big-hearted, and boundlessly beautiful romp through the apocalypse and the world that comes after, where even a cowardly crow can become a hero.
About the Author
---
Kira Jane Buxton's writing has appeared in the New York Times, NewYorker.com, McSweeney's, The Rumpus, Huffington Post, and more. She calls the tropical utopia of Seattle, Washington, home and spends her time with three cats, a dog, two crows, a charm of hummingbirds, and a husband.
Praise For…
---
"Hollow Kingdom is a nature book for our own age, an
exuberant, glittering, hard-hitting mashup of Dawn of the Dead and The
Incredible Journey. It's an adventure lit by strange myths, brand-names,
television and smartphone screens, a fable with teeth and claws about animals
making new lives amongst the ruins of humanity. It's transformative, poignant,
and funny as hell. S.T. the irrepressible, cursing crow is my new favourite
apocalyptic hero."—Helen Macdonald, New York Times bestselling author of H Is for Hawk

"A plucky hero, a
boisterous tale, startling prose and eerie events combine for a thoroughly
enjoyable account of the end of the world as we know it. The Secret
Life of Pets meets The Walking Dead."—Karen Joy Fowler, PEN/Faulkner Award-winning author of We Are All Completely Beside Ourselves

"I love this book so much! I wanted to set it on fire
while hugging it. I wanted to hasten the apocalypse just to see how my own pets
fare in a more humane world without humans. Kira Jane Buxton's voice is fresh,
like a newly dug grave, but so joyful and honest you'll laugh out loud, and
then check to make sure you haven't lost an eyeball. Hollow Kingdom is a
wildly original debut and a paean to my favorite city."—Jamie Ford, New York Times bestselling author of Hotel on the Corner of Bitter and Sweet

"Hollow Kingdom offers a
bird's-eye view of the apocalypse we all want and need-especially when the bird
in question is a plucky, Cheeto-loving domesticated crow . . . With
infinite heart and humor, Kira Jane Buxton's fine-feathered narrator guides us
through richly imagined animal realms while braving the terrifying collapse of
the human world. A dazzling, wholly original debut, revealing the great
paradox of humanity's fatal flaws and resilient spirit."—Mona Awad, author of 13 Ways of Looking at a Fat Girl and Bunny

"Everything
you're hearing about Kira Jane Buxton's Hollow Kingdom--that it's wildly
original and inventive, funny and profane--is wonderfully true. But even better,
this book is timely, smart, movingly written, and beautifully concluded."—Laurie Frankel, author of This is How It Always Is and member of the Seattle7 Writers

"What a surprising,
funny, terrifying, marvelous, wholly original novel! Buxton combines a vivid
horror show (think zombies and the gruesome, bloody extinction of man) with a
touching love story between the unlikeliest of BFFs: a crow, a hound, and a man
who's had a tough go of things on Tinder, and that was before his eyeball fell
out. With humor and a style that brings to mind Tom Robbins and Karen Russell,
Buxton's debut is heartwarming and heart stopping, hilarious and tragic."—Amy Poeppel, author of Limelight and Small Admissions

"A hilariously exuberant
and heart-bursting fable for our times, Hollow Kingdom reminds us that
creativity and determination (and a whole lot of love) can go a long way toward
saving the world. When Mr. Rogers said to look for the helpers, who knew that
might mean a salty-mouthed crow and a faithful bloodhound?"—Jennie Shortridge, bestselling author of Love Water Memory and member of the Seattle7 Writers

"If you've
ever thought that humans were the ones in charge, Kira Jane Buxton's
groundbreaking novel will have you thinking otherwise. Full of
unforgettable humor, insight and beauty, Hollow Kingdom enriches our
human experience by inhabiting the minds (and bellies!) of our non-human
animal companions and reminding us that we're not alone here on this
earth."—Ruth Ozeki, nationally bestselling author of A Tale for the Time Being

"Hollow Kingdom is a grown-up's Watership
Down for our times -- or the end of them. Kira Jane Buxton has created a crow
so full of personality you won't even miss the company of humans, who are
devolving at hyper-speed rates into something sub-literate and grotesque. But
Buxton shows there's humor in our plight and strength in tenderness, and she
portrays the intelligence and astounding beauty of the natural world in a
completely fresh way. This book is a triumphant feat of imagination, and it had
me believing that the bonds we've formed with our pets might help them save us
after all. I'll never look at a corvid the same way again."—Zoe Zolbrod, author of The Telling and Currency and former editor at The Rumpus

"Wow. Hilarious or horrifying? Sassy or
wise? Hollow Kingdom is a surprise and a marvel: a razor sharp and
satisfying warning about the coming apocalypse, told by one of the most
engaging narrators I have met in a long time. Good fiction makes you
think. It turns you upside down and makes you realize that you recognize
the world from that vantage point. Hollow Kingdom is that good fiction,
and so much more."


—Rahna Reiko Rizzuto, author of Shadow Child

"Buxton spins a fresh, alarming apocalypse from the perspectives of intelligent, communicative animals in her hilarious debut . . . S.T.'s complicated personality and the masterful blend of humor and tragedy make this novel an eloquent, emotional exploration of survival during an unthinkable cataclysm."—Publishers Weekly

"Buxton's quirky ideas and compelling nonhuman characters will satisfy literary fiction and zombie genre enthusiasts alike who are looking for something beguilingly different."—Booklist

"Hollow Kingdom combines dark subject matter with an oddball sense of humor in what proves to be a winning formula . . . a surprising, funny, genre-bending novel, an environmentalist parable crossed with an epic adventure story, difficult to describe and even more difficult to put down."—Shelf Awareness

"Surprisingly tender, laugh-out-loud funny, and deliciously strange . . . a joy to read."—BuzzFeed

"Pick up this delightfully weird book for a change from the usual--we promise it's like nothing you've read before."—Good Housekeeping

"Kira Jane Buxton's hilariously philosophical and formidable first novel tackles humankind's most existential questions . . . Buxton does a stellar job of anthropomorphizing the novel's animals and adding drama, suspense, tragedy and hope. It's amazing that such a bizarre and far-fetched story can connect so deeply with our reality and its discussions about social media, climate change, immigration and self-identity. It doesn't get any weirder, funnier or better than Hollow Kingdom."—BookPage

"Literary debuts don't get much more high-concept than this."—Entertainment Weekly

"A call to liberate ourselves from our own domestication . . . a magnum opus on environmental degradation, an expose on the impact of technological dependency, and -- above all else -- a testament to the bizarre and indelicate beauty of re-wilding."—The Nerd Daily

"The sense of place is amazing -- everything feels completely authentic and lived in . . . When I got to the last chapter I dragged my feet (metaphorically), knowing that for every page I read there was one less page to read."—Smart Bitches, Trashy Books