All the Right Notes (Paperback)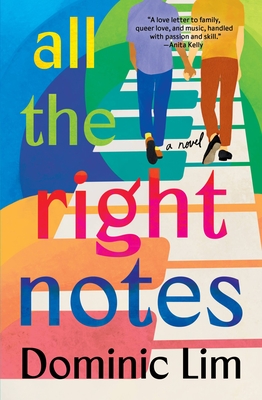 Description
---
Entertainment Weekly: The 6 best romance novels of summer 2023
USA Today: 10 swoon-worthy romance books coming out for summer 2023
Booklist: Top 10 Romances Debuts 2023
Buzzfeed: 25 New and Upcoming LGBTQ Romance Novels You've Got To Read
BookRiot: 40 of the Most Anticipated Beach Reads of 2023
Goodreads:The Hottest New Romances for Summer
Library Journal: The Best Romance Books of the Year (So Far)
Bookbub: 18 Books Our Readers Have Been Loving This Summer
​In this hilarious and joyous rom com, sparks fly when a piano genius and a Hollywood heartthrob are thrown together for a charity performance of solos, heartfelt duets, and a big, showstopping finale.
Quito Cruz might be a genius piano player and composer in New York City now but it doesn't mean that he's any closer to his Broadway dream. Although Quito knows what the problem is. Or rather
who
. Because ever since that night in college—with pretty-boy jock Emmett Aoki—his inspiration has been completely MIA . .  .
Now Quito's dad wants him to put on a charity performance in his hometown. And there's one hella big string attached: convince Emmett—now one of Hollywood's hottest celebrities—to perform.
It's all shaping up to be the biggest musical fiasco of Quito's life. Especially when Emmett agrees to attend, and Quito realizes that undeniable vibe between them is stronger than ever. Because there's nothing simple about falling for a movie star . . . even when he's pitch-perfect.  
About the Author
---
Dominic Lim has enjoyed a lifelong love affair with music. Dominic holds a master's from Indiana University Jacobs School of Music, is an alum of the Oberlin Conservatory of Music, and has sung with numerous professional choral ensembles. As a proud member of the Actors' Equity Association, he has performed Off-Broadway and in regional productions throughout the US. Although he probably shouldn't admit to having favorites, the thrill of singing "This is the Hour" in the chorus of Miss Saigon still pops up in his dreams.
            Dom supports his local writing community as a member of the Writers Grotto and as a co-host of San Francisco's Babylon Salon. He lives in Oakland with his loving and supportive partner, Peter, and their whiny cat, Phoebe.
Praise For…
---
"
A romance with the irresistible melody of a Broadway hit. Lim offers up a swoony, joyful rom-com to take readers into a love story worthy of a Broadway stage."
—
Entertainment Weekly
"With its incisively etched, marvelously inclusive cast of characters, perfectly polished writing lightly dusted with sly wit, and swoon-worthy sexual chemistry, Lim's soul-nourishing debut not only perfectly captures the hope and heartbreak of two people falling in love, but also music's power to transform lives."—
John Charles
,
Booklist (starred review)
"A lyrical, romantic debut with tender, moving notes about Filipino American families and queer love stories. Perfect for fans of Casey McQuiston and Alexis Hall, this is a must-have for library shelves. With a relatable queer protagonist, this uplifting book portrays the power of owning one's truth. Heartfelt, poignant writing and iconic supporting characters boost Quito's story. The friends-to-lovers trope is wonderfully accomplished, full of sweet yearning and perfect harmony."—
Library Journal (starred review)
"Fun and effervescent.. There's a lot of promise in Lim's debut...with its dual-timeline storytelling, charming cast, and love of show tunes."
—
Kirkus
"Light and charming, with a hint of snark, this is a promising start for Lim."—
Publishers Weekly
"
All the Right Notes
is a love letter to family, queer love, and music, handled with passion and skill. The romance burns with tension, and the details of Filipino food had me continuously hungry. I loved it."—
Anita Kelly, author of Something Wild & Wonderful"All the Right Notes
 is a rainbow-sprinkled delight that hits the perfect beats of a rom-com. The inventively-told story features fun, moving and complex characters, wrapped in Dominic Lim's fresh voice. I particularly loved all the music references. The only way to best express how much joy you'll feel is to break out into song."
 —
Sidney Karger, author of Best Men
"This book will make you sing. Lim has composed the perfect second chance romance.
All the Right Notes
blends laugh-out-loud humor with the poignancy of imperfect people finding joy in an imperfect world. The alternating past-present storytelling perfectly captures the longing of youth and the regrets of lost love. I couldn't stop cheering for Quinto and Emmett. They can live rent free in my mind for a long time. There's no way you will finish this novel and not be in love with Quinto, Emmett, Ujima, and Mr. Cruz." 
 —
Karelia Stetz-Waters, author of Behind the Scenes