A Thousand Miles to Graceland (Paperback)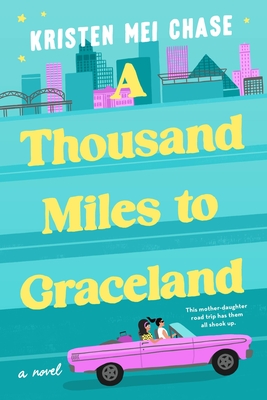 Description
---
The journey of a thousand miles begins with sequins and a beehive wig in this sharply funny and achingly tender debut novel about mothers, daughters, and the surprising power of Elvis.

Grace Johnson can't escape the feeling that her life is on autopilot—until her husband announces he's done with their marriage. Grace has a choice: wallow in humiliation . . . or reluctantly grant her outlandish mother's seventieth birthday wish with a road trip Graceland. Buckle up, Elvis. We're on our way.

Now the two are hightailing it from El Paso to Memphis, leaving a trail of sequins, false eyelashes, and difficult memories in their wake. Between spontaneous roadside stops to psychics, wig mishaps, and familiar passive-aggressive zingers, Grace is starting to better understand her Elvis-obsessed mama and their own fragile connection. She may even have another shot at love. Apparently the King really does work in mysterious ways. But after all these years, will it ever be possible for Grace and her mom to heal the hurts of the past?

 
About the Author
---
Kristen Mei Chase is an author, web entrepreneur and media personality.  She is the co-founder of Cool Mom Picks, one of the most influential parenting networks on the web, reaching millions of parents each month with the best gear, gifts, advice, and tips. Her essays and articles have appeared in The Washington Post, NBCNews.com, The Daily Beast, and others. As a bi-racial Asian American, Kristen writes to share the little stories of bi- and multi-racial Americans in a big way. She lives in the Philly suburbs with her four kids, and an extensive collection of vintage Elvis t-shirts.