The Talk (Hardcover)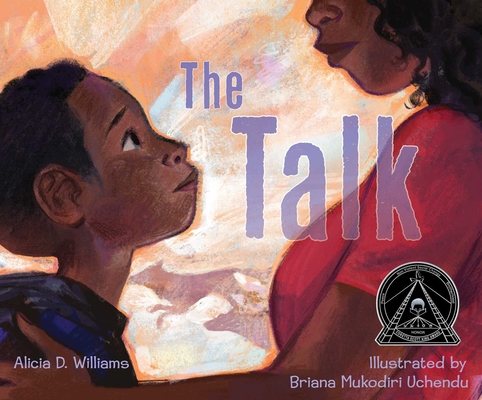 November/December 2022 Kids Indie Next List
---
"This is a talk I never needed to have with my children, but kids all over America need. EVERYONE should read this book so we can understand our prejudices, learn from them, and correct them. The illustrations bring a somber topic lightness."
— Carolyn Roys, Anderson's Bookshops, Naperville, IL
Description
---
A Coretta Scott King Author Honor winner!

As a little boy grows into a bigger boy, ready to take on the world, he first must have that very difficult conversation far too familiar to so many Black and Brown Americans in this gentle and ultimately hopeful picture book.

Jay's most favorite things are hanging out with his pals, getting kisses from Grandma, riding in his dad's cool car, and getting measured by his mom with pencil marks on the wall. But as those height marks inch upward, Grandpa warns Jay about being in too big a group with his friends, Grandma worries others won't see him as quite so cute now that he's older, and Dad has to tell Jay how to act if the police ever pull them over.

And Jay just wants to be a kid.

All Black and Brown kids get The Talk—the talk that could mean the difference between life and death in a racist world. Told in an age-appropriate fashion, with a perfect pause for parents to insert their own discussions with their children to accompany prompting illustrations, The Talk is a gently honest and sensitive starting point for this far-too-necessary conversation, for Black children, Brown children, and for ALL children. Because you can't make change without knowing what needs changing.
About the Author
---
Alicia D. Williams is the author of Genesis Begins Again, which received Newbery and Kirkus Prize honors, was a William C. Morris Award finalist, and for which she won the Coretta Scott King - John Steptoe Award for New Talent; and picture books Jump at the Sun and The Talk which was also a Coretta Scott King Honor book. An oral storyteller in the African American tradition, she lives in Charlotte, North Carolina.

Briana Mukodiri Uchendu is an illustrator, visual development artist, and a first-generation Nigerian American. Her work is inspired by her interests in folklore, film, and animation and her passion to highlight voices that usually go unheard. A recent graduate from Ringling College of Art and Design where she majored in illustration, she currently lives in her hometown of Houston, Texas. The Talk is her picture book debut.
Praise For…
---
This portrayal of a close-knit family and Jay's Black kid joy is as warmhearted as it is resolute, while digitally rendered illustrations by debut artist Uchendu depict desaturated instances of racial prejudice as well as brightly hopeful portraits of Black luminaries, providing an emotive realism to Jay's maturation and his family's greatest fears and dreams. Ages 4–8. Author's agent: Brenda Bowen, Book Group. Illustrator's agent: Jessica Saint Jean, Jill Grinberg Literary Management. (Oct.)
— Publishers Weekly, *STARRED REVIEW*

This powerful picture book about race, family, and growing up is an essential purchase for every library's collection, putting words to an impossible and necessary conversation, and giving children whose families don't have "the talk" a window for understanding and an opportunity for compassion and change.–Myiesha Speight
— School Library Journal *STARRED*

The prose is conversational and light, but as the protagonist grows throughout the pages, older readers will still feel represented and invested in the story. Read this with younger readers who may not have had the Talk yet, or read it with older kids to talk about what it was like before the Talk. The warm illustrations hint at the racism the protagonist experiences but more prominently capture the love he feels in his home, and the focus on characters over setting allows for Williams' words to soar.
— Booklist

Williams' narration is shaped by a convincing, youthful first-person voice, and Uchendu's powerful art conveys both the joyful energy of childhood and the pain of adults who can't shield children from a racist world. A loving approach to sharing painful realities with children, this book strikes a chord. (Picture book. 5-10)
— Kirkus Reviews *STARRED*

Guaranteed to spark a discussion about the issues everyone should be talking about. KQG 
— The Bulletin of the Center for Children's Books

In this effective early introduction to race relations and police brutality in America, Jay is a young boy who loves racing up and down the block with his friends. Jay's commitment to remaining a happy child is a welcome element in this exploration of an all-too-relatable experience with no easy answers.
— Horn Book