Two Can Keep a Secret (Paperback)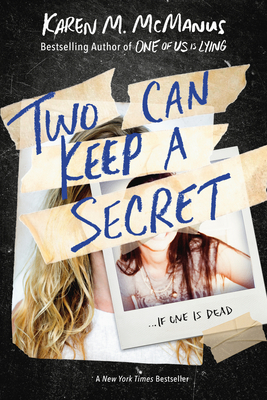 Description
---
"When it comes to YA suspense, Karen M. McManus is in a league of her own. Fresh off her best-selling breakout One of Us Is Lying . . . the author has returned with a juicy second novel. It's even better than what came before." --EW

The New York Times bestselling "must-read YA thriller" (Bustle) from the author of One of Us Is Lying!

Echo Ridge is small-town America. Ellery's never been there, but she's heard all about it. Her aunt went missing there at age seventeen. And only five years ago, a homecoming queen put the town on the map when she was killed. Now Ellery has to move there to live with a grandmother she barely knows.

The town is picture-perfect, but it's hiding secrets. And before school even begins for Ellery, someone has declared open season on homecoming, promising to make it as dangerous as it was five years ago. Then, almost as if to prove it, another girl goes missing.

Ellery knows all about secrets. Her mother has them; her grandmother does too. And the longer she's in Echo Ridge, the clearer it becomes that everyone there is hiding something. The thing is, secrets are dangerous--and most people aren't good at keeping them. Which is why in Echo Ridge, it's safest to keep your secrets to yourself.

2 STARRED REVIEWS!
About the Author
---
Karen M. McManus earned her BA in English from the College of the Holy Cross and her MA in journalism from Northeastern University. When she isn't working or writing in Cambridge, Massachusetts, McManus loves to travel with her son. She is the author of the New York Times bestsellers One of Us Is Lying and Two Can Keep a Secret as well as of the upcoming sequel to One of Us Is Lying, One of Us Is Next. To learn more about her, go to her website, karenmcmanus.com, or follow @writerkmc on Twitter.
Praise For…
---
More Praise for Two Can Keep a Secret:

A BuzzFeed Best YA Book of the Year

"It's even better than what came before: more exciting, with richer characters and a stronger final-act twist. . . .  This is a murder-mystery, and a damn good one, the town of Echo Ridge steeped in an irresistible menace, the questions at the heart of the novel turning darker and deeper with each new revelation. That's what should rightly make this another smash best-seller." —EW

"You won't be able to put [it] down."—Cosmopolitan.com

"A must-read YA thriller if you love Riverdale and Sharp Objects." —Bustle

★ "The mystery unfurls at a deliciously escalating pace, filled with believable red herrings and shocking twists. Readers will furiously turn pages until the satisfying end....with well-earned thrills and spooky atmosphere worth sinking into." —Kirkus Reviews, Starred Review

★ "With complex characters and intricate plotting, McManus delivers a fast-paced, twisty whodunit." —Publishers Weekly, Starred Review

"Tightly knit and well-placed plot elements, along with the development of Ellery and Malcolm's relationship, keep pages turning until the revelation of the murderer's identity and motivations, as well as some other secrets that turn out satisfyingly well." —Bulletin

"McManus follows up her smash hit debut, One of Us Is Lying, with another twisted mystery...[that will have readers] speeding their way to the end." —Booklist

More Praise for Karen McManus's One of Us Is Lying:

A New York Public Library's Best Book for Teens Selection A CBC Teen Choice Book Award Nominee
A Bustle Best Young Adult Book of May 2017
A Goodreads Best Young Adult Book of the Year Nominee
A YALSA Top Ten Best Fiction Book Nominee
A YALSA Quick Pick for Reluctant Young Adult Readers

"You'll tear through this juicy, super-fun (if murder can ever be fun?) thriller." --Bustle

"Twisty plotting, breakneck pacing and intriguing characterisation add up to an exciting, single-sitting thrillerish treat." —The Guardian

"Readers will have a hard time putting this clever page-turner down." —BookPage.com

"An addictive, devour-in-one-sitting thriller with so many twists and turns you'll be wondering until the very end: Who really killed Simon?"—Kara Thomas, author of The Darkest Corners and Little Monsters

★ "[As] McManus's intense mystery unfolds...each character becomes more complex and nuanced, adding richness and depth to the suspense." —VOYA, Starred Review

"This fast-paced blend of Gossip Girl, Pretty Little Liars, and classic John Hughes will leave readers racing to the finish as the try to unravel the mystery on their own." —Kirkus Reviews

"One of Us Is Lying is flat-out addictive...[McManus] weaves an authentic, suspenseful mystery that readers can imagine taking place at their very own high school." —RT Book Reviews

"A smart, twisted, and unpredictable YA mystery that will have readers guessing until the very end." —SLJ

"An engaging, enticing look at the pressures of high school and the things that cause a person to lose control." —Booklist