What a Blast!: Fart Games, Fart Puzzles, Fart Pranks, and More Farts! (Paperback)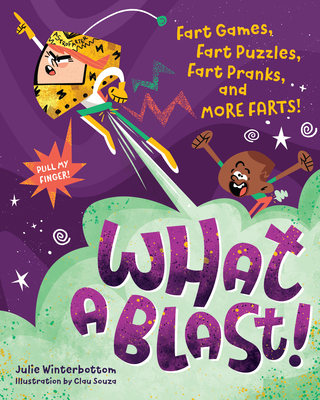 $12.95

Available to order; typically arrives at Bookmarks in 5-10 days
Description
---
Squeakers, butt puffs, trumpets and "the destroyer". Celebrate farts in all their hilarious, honking glory!
Con-fart-ulations! You've found the book that confirms your fine appreciation for the fact that nothings funnier than a little pfffftt from someone's butt. Cheerfully over-the-top, packed with activities, and grounded in the science of flatulence, What a Blast! Is a trip through the body's digestive system to explore the whys, hows, and wherefores of farting. You'll discover the fartiest food in the world, meet infamous farters from history, learn just what to say if you fart in public—"Yeah, you heard me!—and so much more!
Have fun with farts!
Solve the question of who farted?
Discover your gastrological sign.
Play free the fart through an intestinal maze.
Learn how to make elbow farts, hand farts, and armpit farts.
Throw a farty party.
And get creative with funny fill-in stories, like a fart to remember
About the Author
---
Julie Winterbottom is the author of Pranklopedia and Frightlopedia and the former editor-in-chief of Nickelodeon Magazine. She lives in Beacon, NY. When she is not dreaming up ways to scare kids or make them laugh (or both), she plays cajun accordion.