Music Theory 101: From keys and scales to rhythm and melody, an essential primer on the basics of music theory (Adams 101 Series) (Hardcover)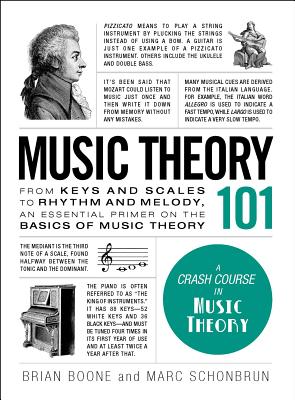 Description
---
Learn the basics of music theory in this comprehensive and easy-to-understand guide.

From classical to hard rock, and jazz to hip hop, music is constantly evolving, but many of the basics have stayed the same. Understanding these basics is key to becoming a successful musician and well-rounded music lover.

Music Theory 101 covers everything novice musicians and lifelong learners need to know, including:

-How to read sheet music
-Understanding the construction of chords and scales
-The different rhythm and time signatures
-How keys are identified and organized

Full of music trivia, music history, comprehensive instruction, and visual aids of scales, music symbols, and chords throughout, Music Theory 101 is the essential guide you need for a crash course in music theory that even professional musicians would envy.
About the Author
---
Brian Boone is an editor and writer for the bestselling Uncle John's Bathroom Reader line of trivia and humor books. He wrote I Love Rock n' Roll (Except When I Hate It) and coauthored American Inventions: Big Ideas That Changed Modern Life and How to Make Paper Airplanes. He has contributed to How Stuff Works, Barnes & Noble Reads, McSweeney's, Splitsider, Someecards, The Onion, Adult Swim, and Funny or Die. He lives in Oregon with his family.

Marc Schonbrun is an educator, writer, and performer in the San Francisco Bay Area. Marc's musical resume ranges from classical to jazz trio and rock concerts. He is an active lecturer on guitar and music technology, and he frequently tours the country educating musicians and teachers. He is the author of several books on music, including The Everything Reading Music Book with CD, The Only Guitar Book You'll Ever Need, The Everything Music Theory Book with CD, and The Everything Essential Music Theory Book, among others. He lives in San Jose, CA.
Praise For…
---
"Comprehensive and easy-to-follow."

—Cmuse