The 6 Most Important Decisions You'll Ever Make Personal Workbook: Updated for the Digital Age (Paperback)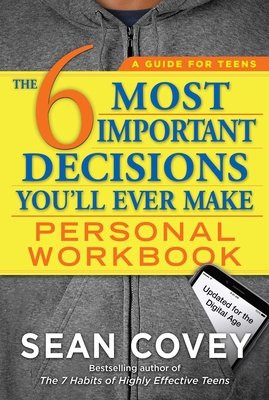 $16.99

Available to order; typically arrives at Bookmarks in 5-10 days
Description
---
A hands-on companion workbook to the New York Times bestseller The 6 Most Important Decisions You'll Ever Make, now updated to include new information about technology and how it affects teens today.

In The 6 Most Important Decisions You'll Ever Make, Sean Covey gives teens the advice they need to make informed decisions that will lead to long-term success and happiness. He shares guidance on the big issues in their lives, such as how to succeed in school, make good friends, get along with parents, wisely handle dating and sex, avoid or overcome addictions, build self-esteem, and much more.

In this valuable workbook, Covey allows readers to practice and learn how to actually make those decisions with enhancing stories, exercises, advice, and practical wisdom that can be applied to real life. It also encourages teenagers to talk to their parents, their friends, and their role models about these important issues. This newly revised edition includes new material for the digital age and how social media and technology affects the 6 Decisions in today's world.
About the Author
---
Sean Covey is a business executive, author, speaker, and innovator. He is President of FranklinCovey Education and is devoted to transforming education throughout the world through a principle-centered leadership approach. Sean is a New York Times bestselling author and has written several books, including the Wall Street Journal #1 business bestseller The 4 Disciplines of Execution, The 6 Most Important Decisions You'll Ever Make, The 7 Habits of Happy Kids, and The 7 Habits of Highly Effective Teens, which has been translated into twenty languages and sold over 8 million copies worldwide. Sean and his wife, Rebecca, live with their children in the Rocky Mountains.