Living in . . . South Africa: Ready-to-Read Level 2 (Living in...) (Paperback)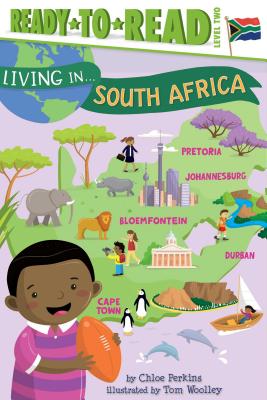 Description
---
Discover what it's like to grow up in South Africa with this fascinating, nonfiction Level 2 Ready-to-Read, part of a series all about kids just like you in countries around the world!

Dumela! My name is David, and I'm a kid just like you living in South Africa. South Africa is a country filled with stunning cities, amazing animals, and many different cultures—that's why they call South Africa the rainbow nation! Have you ever wondered what South Africa is like? Come along with me to find out!

Each book in our Living in… series is narrated by a kid growing up in their home country and is filled with fresh, modern illustrations as well as loads of history, geography, and cultural goodies that fit perfectly into Common Core standards. Join kids from all over the world on a globe-trotting adventure with the Living in… series—sure to be a hit with children, parents, educators, and librarians alike!
About the Author
---
Chloe Perkins is the editor and author of a few dozen books for children. She lives in New York City, with her husband, Rico, and their corgi puppy/sometimes shark, Marius. Growing up in a small town in Ohio, Chloe always dreamed of writing stories that could take kids on their own reading adventures, and she's thrilled to be doing just that!

Tom Woolley is an illustrator who works on children's books and colorful maps. He lives in the historic City of Bradford in West Yorkshire in the United Kingdom. When not busy illustrating, Tom likes to ride his bike and loves to travel and explore new places.